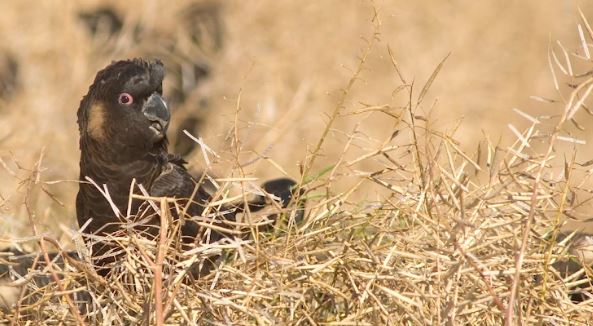 Poisoned grain used to control mouse plagues has the potential to harm Carnaby's and other birds.
Mouse numbers have been exploding with the good rains and conditions and are forecast to reach plague proportions in some parts of WA.
Some farmers are looking to broadscale aerial spread poisoned grain (treated with a first generation rodenticide with zinc phosphide) as a control measure to minimise mouse impacts on crops particularly Canola.
BirdLife Australia's Dr Vicki Stokes said "The issue for Carnaby's is that they feed on Canola both before harvesting (not so much of a risk) and after harvesting feeding on the ground (could be a risk). There is the potential for birds to ingest poisoned grain as a result of this behaviour".
"At this stage we do not know how much poisoned grain will be spread, where it will be spread in relation to areas of Canola that Carnaby's typically use during the breeding season and therefore the likelihood of birds coming into contact with any poisoned grain".
BirdLife Australia checked in with Mike Lohr, researcher at Edith Cowan who has done a lot of research on rodenticides and he advised that risks of secondary poisoning are low (so impacts on owls or raptors feeding on poisoned mice is low due to fast breakdown of poison) – but direct indigestion of treated grain could cause ill effects for birds such as Carnaby's.
Dr Vicki Stokes advised that "it is important that landholders and the community look out for sick or dead birds and report any incident straight away to Perth Zoo or BirdLife. It will be very important for birds to be quickly tested for poison in these situations."
Farmers that know Carnaby's feed on their harvested Canola, or other cereal crops – should avoid using the poisoned grain or at the very least don't aerial spread. Link to ABC's article : https://www.abc.net.au/news/2021-09-13/mouse-baiting-risk-to-carnabys-cockatoos/100450998
This project is supported by the PHCC through funding from the Australian Government's Environmental Restoration Fund.