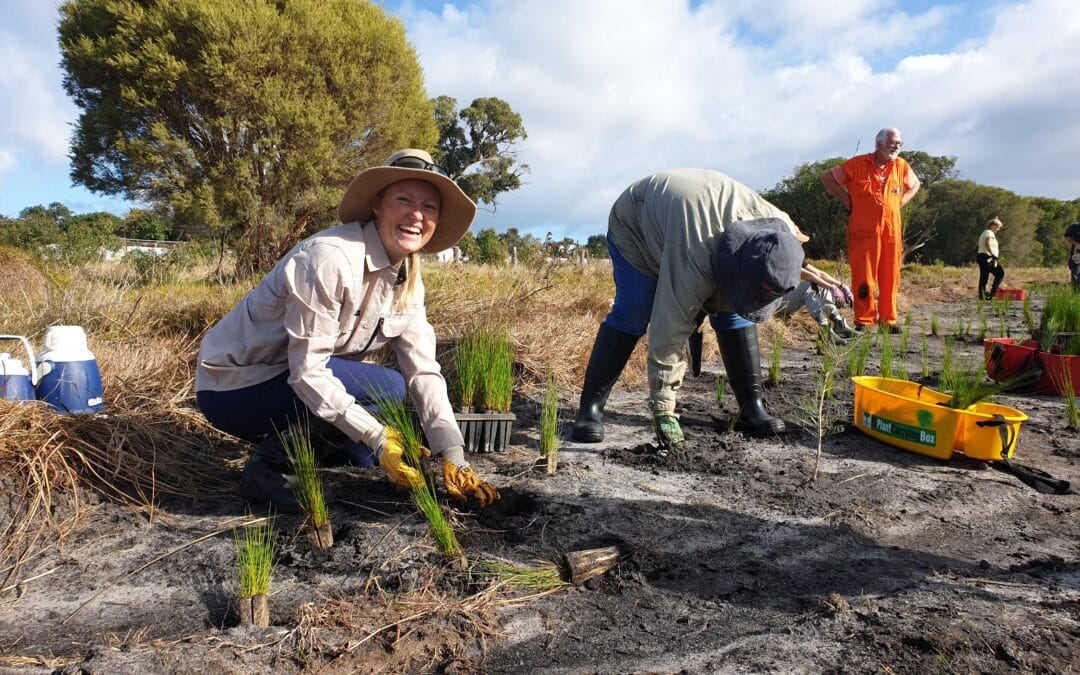 Planting season for our Ramsar project kicked off at the start of June 2022 with two successful planting days at Lake McLarty Nature Reserve. The work builds on previous revegetation efforts from 2020 supported by PHCC through the Wetlands and People Project to enhance this internationally significant Ramsar 482 wetland.
The project site to the south east of Lake McLarty (referred to as Lot 68) was acquired by DBCA and is being restored from its former agricultural land-use to create a vegetated drainage treatment area. A portion of the drainage from the catchment is diverted into the vegetation stream to be filtered prior to entering Lake McLarty. This year's revegetation activities have included ripping (soil tilling) site preparation, weed management and in-fill planting with over 2,200 seedlings to the area. PHCC supplied a range of riparian plants, including Melaleuca rhaphiophylla (Swamp Paperbark), Juncus kraussii (Sea Rush), and Viminaria juncea (Swishbush) as well as other native wetland and upland species. South Metropolitan TAFE students studying Certificate 2 in Conservation and Land Management participated in the planting day were able to learn about the requirements and processes they need to consider when planting native seedlings including the value of site preparation and tools like 'pottiputki' planters.
Another area to the south of the lake was the focus for dense Juncus sedge and Melaleuca tree planting. The area was dominated by a thick layer of invasive couch grass, requiring the top 100-200mm layer of weed material to be 'scalped' and removed from site.
The Friends of Lake McLarty (FoLM) were able to purchase 3,600 sedges using a $5,000 grant from the Coolup LCDC. With the site prepared, FoLM members and other volunteers worked alongside DBCA and PHCC to plant them out in one day. A huge effort from the group and just in time for the onset of the winter rain season. The long term goal is to continue to remove and manage dominant couch grass and other weeds species to facilitate the establishment of native vegetation that provides valuable habitat.
The revegetation efforts at Lake McLarty this year have been a great collaborative effort and PHCC looks forward to continuing to work with the local community to monitor the success of recent works and plan management works and projects into the future.
The Wetlands and People project is funded by the Australian Government.