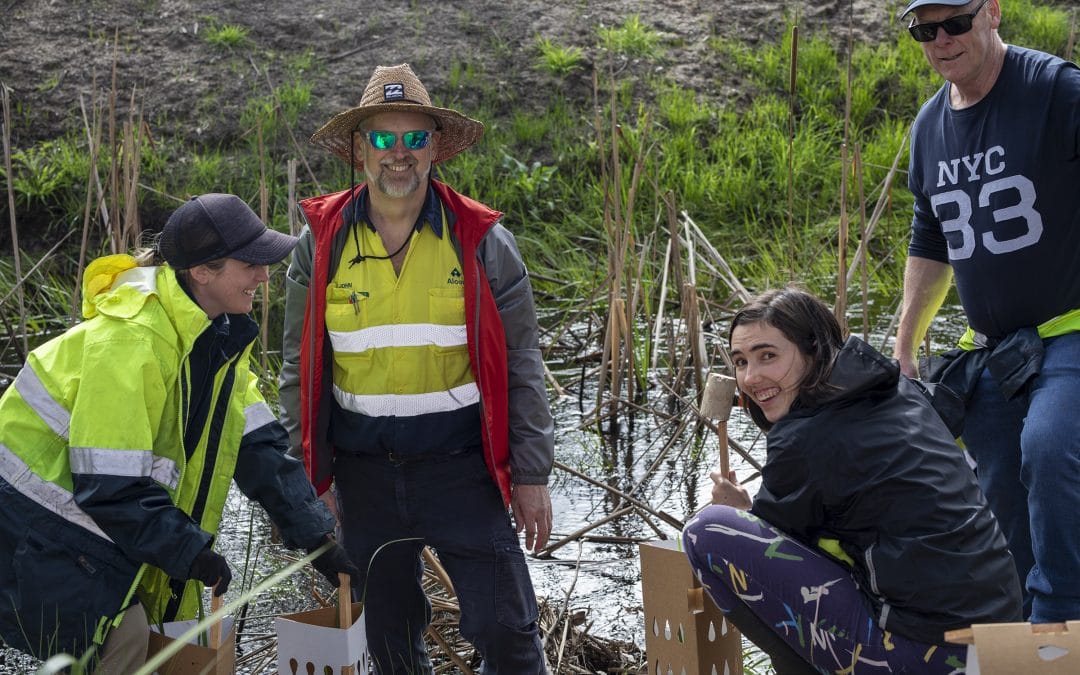 The Shire of Murray, in partnership with BirdLife Australia, the Peel-Harvey Catchment Council (PHCC) and Alcoa is rallying the community to help plant 3,000 seedlings along the foreshore of the Murray River in Pinjarra. The event forms part of the global initiative for World Environment Day, which encourages worldwide awareness and action for the protection of the environment and is celebrated annually in June in over 100 countries.
According to Shire President Cr. David Bolt, seedlings of cockatoo fodder plants will be planted.
"Our World Environment Day event is an ideal opportunity for Murray to collectively help protect our Black Cockatoo population including the Carnaby's, Baudin's and Forest Red-Tailed species''.
"It is also a great day to connect as a community, while learning about our enviable environment," Cr. Bolt said.
This is the second World Environment Day event to be held in Pinjarra with plenty of interactive stalls and a variety of fun activities to entertain the whole family. PHCC Chair Caroline Knight said "There will be the opportunity to learn about the threatened Black-Cockatoos, landcare and the environment. Attendees will also be able to meet Black-Cockatoos on the day whilst engaging in the revegetation activities."
"Planting days such as this are important and PHCC embraces working together with the community to improve the connectivity of native vegetation along our rivers. Planting along the river edges also helps to stop erosion, helping to improve water quality, create habitat, breeding and food resources for our many native species that live near, or rely on our rivers." She said.
Funding for the planting event is provided through Alcoa's global charity, the Alcoa Foundation, through a grant to the PHCC which aims to improve the health of both the Murray and Serpentine rivers. BirdLife Australia are also helping deliver the project, to help endangered and threatened Black-Cockatoo species.
Alcoa Corporate Affairs Manager Suellen Jerrard said ''it was a privilege to work alongside organisations like these, the Murray Shire and the broader community to restore and enhance the unique environment of the Peel region''. "Support for planting and community events like this one are what Alcoa's community partnership program is all about," Mrs Jerrard said. "By all rolling up our sleeves, we can make a real difference to our vital waterways and our endangered and threatened wildlife."
BirdLife Australia encourage planting local native seedlings in back yards, parks and open spaces as a great way to support our native birds and animals. This is a large component of the Alcoa Community Cockatoo Recovery project, and something BirdLife is working to achieve. "With large tracts of banksia woodland removed and now fragmented across the Perth Peel region, it is becoming ever more important for us to be giving something back to our wildlife. Therefore providing water and planting the right types of plants is a great initiative for communities and local councils to get behind. It will make a real difference to the continued survival of threatened Black-Cockatoos and it is such a joy to have them in our local parks, backyards and gracing the skies of our suburbs" said BirdLife Australia Program Manager, Dr Vicki Stokes.
This planting day will be held on Saturday 26 June at Birmingham Way Reserve, Pinjarra. It starts at 9:00am and finishes around 12:30pm with a free sausage sizzle for planting participants. The nearest available parking areas are along Birmingham Way, between George Street and James Street in Pinjarra and at Cantwell Park Playground parking area off George Street.
The Shire is also showing the film, 'Blue' which will be held in the Pinjarra Civic Centre at 5:30 pm on the 24th of June (2 days before Planting in the Park).
The film presents a provocative journey into the ocean realm, witnessing the critical moment when the marine world is on a precipice. Industrialisation that has occurred in the oceans over the last century, mirrors the events that triggered mass extinctions on land with the very nature of the sea being irretrievably altered.
This is a free event.
For tickets and further information visit the Shire of Murray's Facebook page.
ENDS
Media Contacts:
Peel-Harvey Catchment Council: Jane O'Malley, Chief Executive Officer, 08 6369 8800,
admin@peel-harvey.org.au
BirdLife Australia: Vicki Stokes, WA Program Manager, BirdLife Australia, 0409 033 126, vicki.stokes@birdlife.org.au
Shire of Murray: Lauren Williams, Communications and Marketing Coordinator, 08 9531 7777, cmc@murray.wa.gov.au