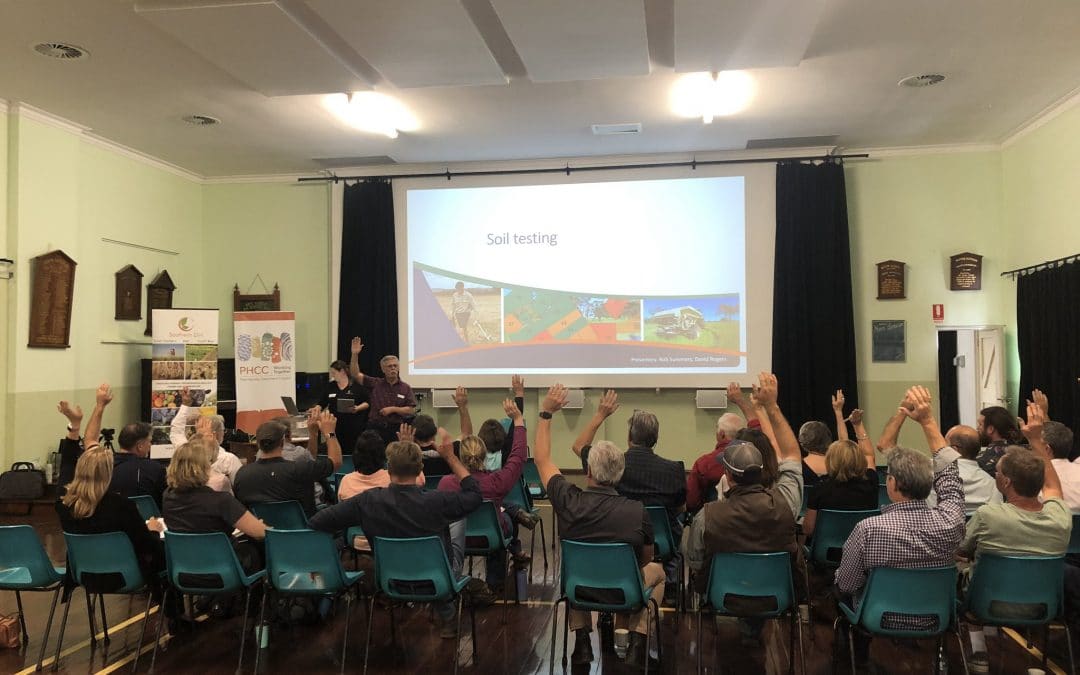 We recently held a Peel Soil Health Workshop with experts from a range of organisations and farmers who are running several soil projects on their farms.
Rob Summers & Dave Rogers from the Department of Primary Industries and Regional Development (DPIRD) discussed the importance of soil testing and how to use data to make significant improvements. They also showcased the DPIRD fertiliser application, which can determine fertiliser rates depending on soil test results. https://www.agric.wa.gov.au/fertiliser-calculator.
Andy Gulliver from C-Wise spoke about the importance of soil organic carbon and how it can improve soil in a number of ways, such as increasing the capacity of the soil to hold nutrients and water, improving soil biology in general and also how it can increase nutrient cycling and fertiliser efficiency. Overall, the addition of organic carbon in soils will improve our soils and therefore also improve our crop performance.
We then heard from two farmer case studies. Blythe Calnan from Runnymeade Farm in Harvey spoke about her soil improvement project using worms in windrows. She was looking for a way to improve soil health on her waterlogged soils and using a technique inspired by Nicole Masters, she was able to re-establish fungi in her soils, utilise farm waste and provide a perfect package of biological stimulant to her soils. Her goal is to use it in the form of a liquid application to improve diversity in soil biology and help establish thriving ecosystems in their pastures. Blythe was able to run this project using a Greening Farms Grant from the PHCC.
Doug Pow, a beef and avocado farmer down in Manjimup joined us to discuss his innovative use of dung beetles and biochar to improve soil fertility and productivity. He feeds biochar to his cattle and the introduced Bubas bison dung beetles bury the activated biochar down into the soil. He has seen a huge improvement in his soil health, and it has allowed a lot of locked up nutrients such as phosphorus and potassium. He has also seen an increase in pH and calcium and has been able to increase stocking rates on his pastures.
We finished the presentations with Louise Edmonds, who outlined how carbon farming works, what is in it for farmers and how farmers can start to benefit from carbon farming. She discussed how carbon credits are created through the avoidance of emissions and by removing carbon from the atmosphere.
The Greening Farms project is supported by the Peel-Harvey Catchment Council through funding from the Australian Government's National Landcare Program