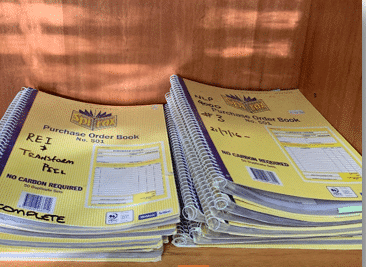 Whilst our project teams have been out and about water monitoring, restoring our rivers and protecting our threatened species in recent months, the fabulous Core Services Team have been doing their bit for the environment too!!
Due to COVID19 and the Working from Home restrictions that came with it, meeting our financial and governance obligations could have been a bit tricky due to our staff being scattered across our large catchment. However, with innovative ideas from our Finance Team members Karen and Pat, the "Electronic Finance Mailbag" – our paperless system – was developed and went live in April 2020.  There were Compliance and Audit obligations to manage at first, then electronic stamps and new procedures created and lastly, training the team up to  embrace the new concept. Along its short journey, the team has added a string of new initiatives to continually improve its processes and in 2021 we will not be looking back because it really has been a game changer!   
They've gone from flick, flick, flick through massive piles of paper to click, click, click working from within and saving e-documents. This has enabled the team to streamline finance processes and procedures, thus improving time management
They've reduced the number of emails arriving in the "Inbox" – with all finance documents managed within the electronic mailbag
Staff work on a "live" document rather than saving versions of the same document
Paper waste, printer ink and electricity are all reduced, along with noise pollution due to minimal photocopier usage.
Impressed with the success of the Finance Mailbag, other areas within the organisation have implemented similar changes to streamline their work procedures. Whilst there have been many COVID-19 challenges put before us, this certainly has been a huge plus for the organisation.
PHCC … Always working towards a healthy environment and that includes our Core Services Team!
A big thank you to Karen, Pat and the team.