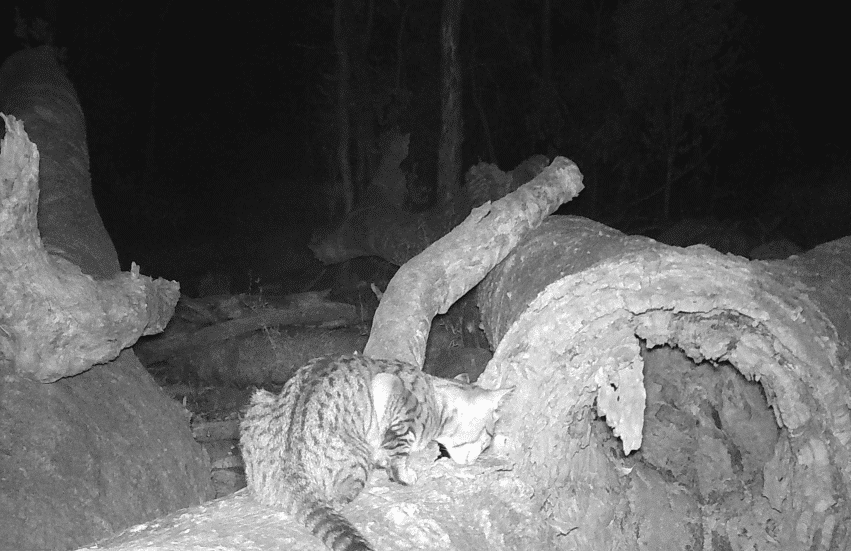 Hollow logs and fallen tree limbs provide important refuges and are a great place to set up remote cameras to detect native fauna, unfortunately foxes and cats also frequent these to search for prey.
In Australia feral cats and foxes have been implicated in extinctions and decline of a wide range of native fauna species. Across Australia it is estimated that together annually feral cats and foxes kill 697 million reptiles, 510 million birds and an astounding 1,435 million mammals! Many more frogs and insects are also predated by cats and foxes.
However there is cause for hope. Where feral cats and foxes have been effectively controlled and there is suitable habitat there can be noticeable benefits to native fauna including threatened species such as numbats and woylies. Retaining hollow logs and fallen branches on your property is a great way to provide habitat and refuges for native fauna, from insects, skinks, birds to mammals. PHCC is investigating adding these structures to project sites and corridors as a refuge to help native fauna alongside feral animal control.
If you need help controlling foxes and feral cats on your property or would like advice on hollows please contact PHCC's Farmers for Fauna Coordinator via email christine.townsend@peel-harvey.org.au
This project is supported by the Peel-Harvey Catchment Council Numbat Neighbourhood Project through funding from the Australian Government's National Landcare Program, Newmont Boddington and South32 Worsley Alumina