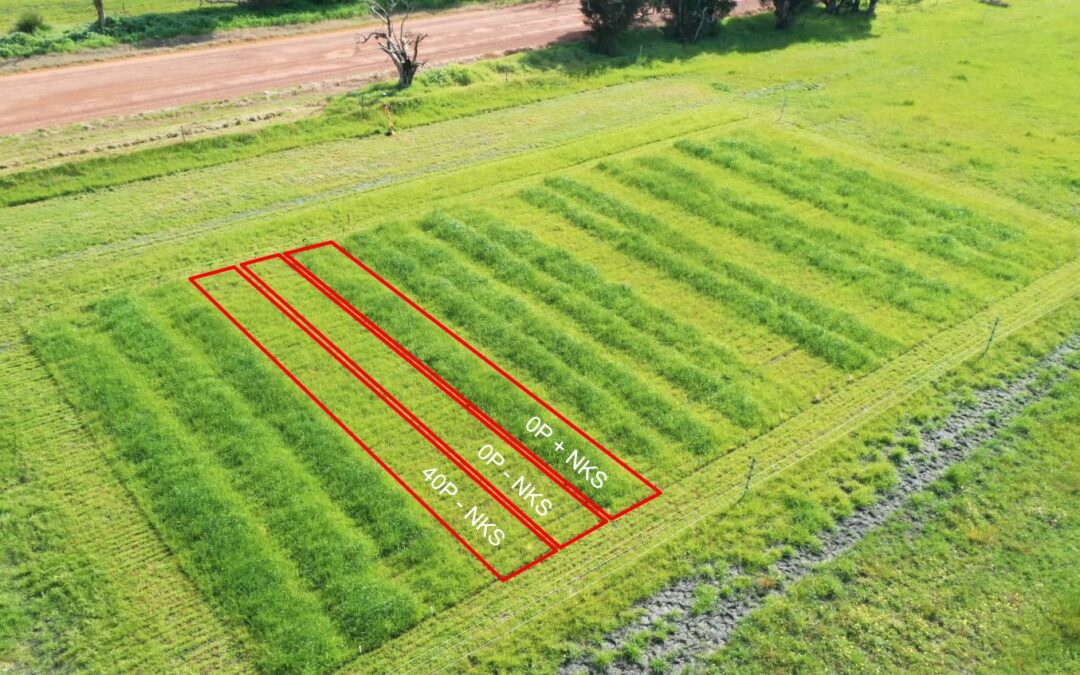 The local uPtake trials are designed to improve understanding of nutrient requirements for productivity to keep nutrients and profits on farm whilst reducing losses to waterways and estuaries.
Results of recent nutrient trials in Waroona show the site is responsive to phosphorus when basal nutrients (N, K & S) are applied.  Applying NKS significantly increased production. It was found there was no significant increase in yield beyond 10 units of phosphorus with basals applied. Results from the trials are compared to data from the national Better Fertiliser Decisions for Pastures project to ensure they are relevant and applicable to south west WA.
The trial site near Buller Road has typical sandy grey soils and a low phosphorus buffering index (PBI), thus low ability to retain phosphorus in the soil. 7 treatments of phosphorus (P) fertiliser (between 0 and 40kg) were replicated 3 times for a total of 21 plots. Plot dimensions were 1.2m x 15m. The site was fenced for the entire season. Plots were mown and pasture dry matter was measured every 5 – 6 weeks. Mowings were removed from plots with a pasture subsample retained for analysis. Basal fertilisers containing nitrogen, potassium, sulphur and trace elements were applied at the start of the season and nitrogen, potassium and sulphur were also applied after every cut. Phosphorus treatments were applied once only at the start of the season.
We found there was a response to phosphorus application only when basals (NKS) were also applied. Application of up to 10 units of P (with NKS) showed growth response, however beyond this greater amounts of P showed no difference in yield.
This means that on these sandy soils pasture growth is limited by the soils ability to retain phosphorus at high levels. The addition of NKS will show a much greater response in yield.
Results from the trials will help inform more sustainable and improved fertiliser use in other farms.
uPtake is jointly funded through Royalties for Region's Regional Estuaries Initiative and the Australian Government's National Landcare Program.