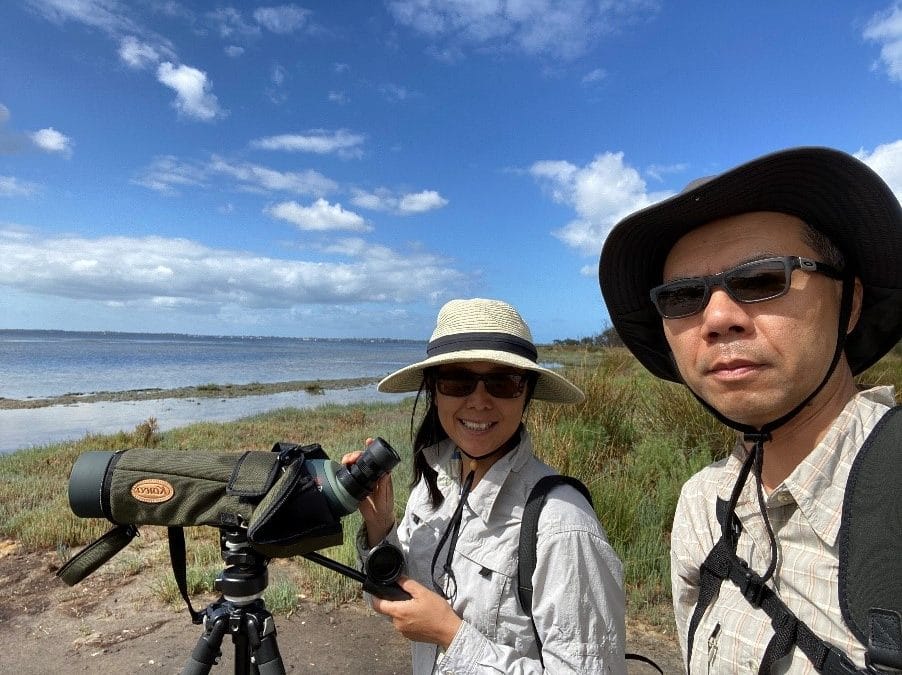 During Kambarang and Birak seasons, more than 20,000 migratory shorebirds arrive at our Peel-Yalgorup Ramsar listed wetlands (Ramsar 482) from as far away as the Arctic Circle to feed and avoid those icy northern hemisphere winter conditions! This means that a team of dedicated volunteers are currently preparing for the annual shorebird count which that has taken place in Ramsar site 482 every year since 2008, as part of BirdLife Australia's National Shorebird Monitoring Program (formerly called Shorebirds 2020).
Each summer since 2008, teams of dedicated volunteers gather on a single day to take a census of the shorebirds of the Peel-Yalgorup System. These highly skilled volunteers have been trained in identification of this special group of birds. They visit areas around the Peel-Harvey Estuary, the Yalgorup Lakes and Lakes McLarty and Mealup that collectively make up the Peel-Yalgorup Wetlands. This system is recognised as internationally important under the Ramsar convention as Ramsar site 482. This especially recognises the important of the habitat they provide for migratory birds.
The Peel-Yalgorup System supports an impressive diversity of waterbirds totalling 104 species, including resident species that live here all year round and migratory shorebirds that visit during our summer. These feathered global tourists fly here along the East-Asian Australasian Flyway, a transnational route stretching all the way from the Arctic Circle to Australia and passing through many countries including Russia, the USA, China, Korea, Japan, Indonesia, and many more.
These birds are increasingly threatened by changes in the use, quality and availability of wetlands all along their flyway migration route. For this reason, keeping track of the populations of migratory birds that arrive each summer in our wetlands is critically important to inform conservation efforts and our national and global understanding of how the populations are doing.
The annual count is part of BirdLife Australia's citizen science initiative the National Shorebird Monitoring Program (formerly called Shorebirds 2020). The counts at Ramsar site 482 have been coordinated by PHCC in collaboration with BirdLife WA and local community groups including Mandurah Bird Observers since 2008, and so far approximately 200 volunteers have contributed their time and expertise as citizen scientists. The data they collect is gathered by BirdLife Australia and contributes to a national database that informs research and conservation planning for migratory shorebirds.
The next shorebird count will take place on the 31st January 2021, and will be extra special this year as it coincides with the 50th Anniversary of the international Ramsar Convention and World Wetlands Day.
In preparation for the 2021 count, a group of existing volunteers have already been taking part in an intensive training and mentoring program led by BirdLife WA's Shorebirds Coordinator Jeremy Ringma. As part of this program, this group (most of whom have volunteered at several previous counts) are further increasing their shorebird identification skills to work towards leading teams for the count.
New volunteers are also invited to express interest in taking part in 2021's count. Those new to the count will have the opportunity to join a training workshop in mid-January to prepare them with the skills to take part in their first shorebird census. During the count on 31st January 2021 they will then have the opportunity to join a small team led by an experienced birdwatcher.
Anyone interested in learning more about how to become involved in monitoring shorebirds can contact Charlie Jones, PHCC's Community Engagement Coordinator – Wetlands and People at charlie.jones@peel-harvey.org.au
This project is supported by the Peel-Harvey Catchment Council through funding from the Australian Government's National Landcare Program, and in close collaboration with BirdLife WA.