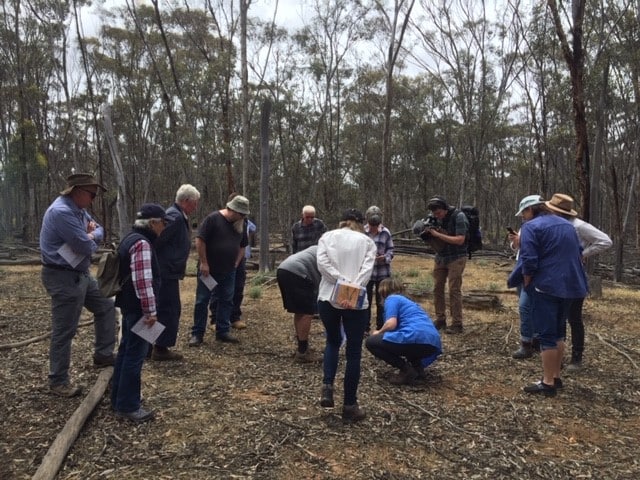 Local landholders and interested members of the community attended PHCC's Numbat Dig ID Workshop in Dryandra Woodland on Friday the 13th of November. By learning how to identify Numbat traces, landholders can determine if numbats are utilising on farm habitat which can indicate if the numbat population is increasing. This increased trajectory is one of the outcomes of PHCC's Numbat Neighbourhood Project. >>
Tamara Wilke-Jones, who has years of experience being involved in the annual Numbat Dig Surveys, taught us all about numbats, their habitat, diet and how to identify their digs and scats.  After the informative presentation from Tamara we all went out into the Woodland to look for diggings and scats where there had been a lot of animal activity. We saw numbat, echidna and quenda diggings, various scats and antlion pits.
This workshop provided a great opportunity for local landholders to catch up with each other and for PHCC to thank them for the hard work they have been doing controlling feral cats and foxes as well as offer our support. A number of people who attended the workshop managed to spot a numbat on their way through the Woodland. The Hotham-Williams team were lucky enough to see three numbats on the way to set up for the workshop!!
Stay tuned for an educational video all about numbats and how to identify their traces that we are creating with the help of Tangents TV.
This project is supported by the Peel-Harvey Catchment Council through funding from the Australian Government's National Landcare Program and Newmont Boddington in partnership with Department of Biodiversity, Conservation and Attractions, Project Numbat and the Shires of Boddington, Cuballing, Wandering and Williams.