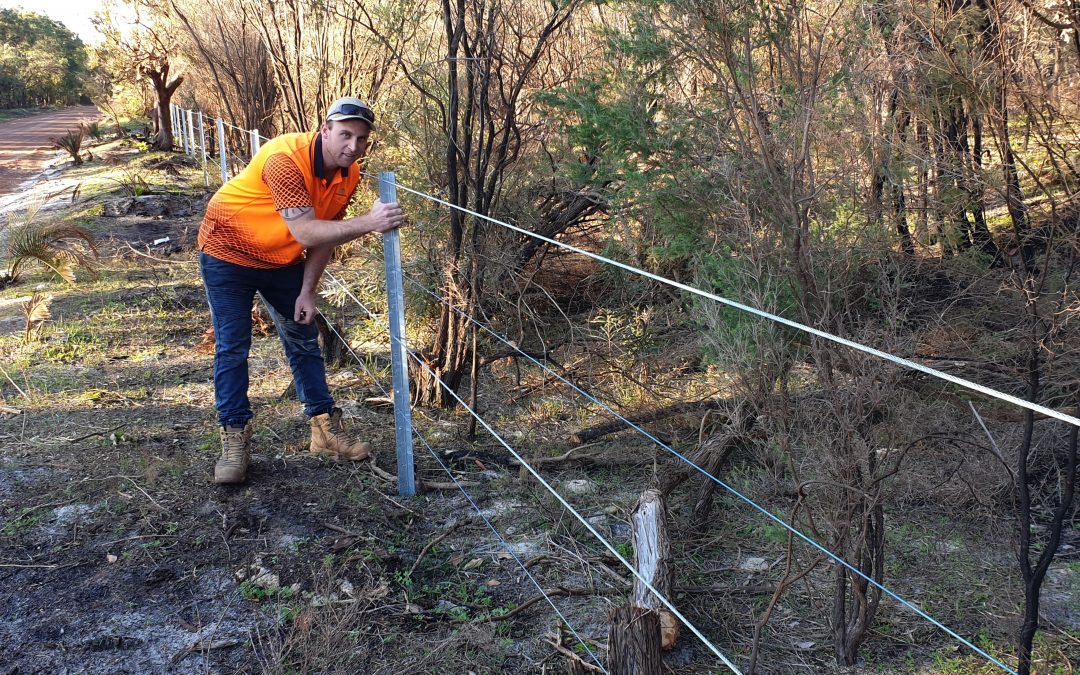 From knocking out Cotton Bush and woody weeds, to fencing around a bush reserve and giving a hand to a local Friends group with revegetation plantings, there has been a lot going on with the on-ground component of PHCC's 'Wetlands and People' project lately. Workers have had to dodge some heavy downpours but there is no time to ease off!
In 2019 and 2020, we treated two of WA's most disliked weeds, Narrow-leaf Cotton Bush and Spiny Rush (also known by its scientific name Juncus acutus), in large areas around Lake Preston as part of PHCC's commitment to protect and restore the Ramsar-listed Peel-Yalgorup wetlands (Ramsar Site 482). A golden rule of any weed control project is that follow-up control must follow initial treatment to treat hidden plants missed in initial treatment as well as any new seedlings that germinate from seed remaining in the ground.
Contractors recently returned to the lake and scoured the entire shoreline – approximately 60 km – before the heavy rain set in. Large, dense patches of Cotton Bush that to our knowledge had not before been treated were slashed and sprayed, and new patches of Spiny Rush were located and treated. Works crews also revisited Yalgorup National Park bushland and neighbouring farmland east of the lake to conduct follow-up control of Cotton Bush. Here they mopped up several scattered patches of young plants, working in collaboration with two landholders who have been actively controlling Cotton Bush on their properties for some time.
In other on-ground projects, workers returned to a reserve near Preston Beach town site to treat regrowth and new seedlings of various weeds including many garden escapees such as Bridal Creeper, Lions Ear (a garden shrub with bright orange flowers), Pampas Grass, Myrtle leaf Milkwort (an ornamental plant with pink flowers resembling pea flowers), Wild Fig, Brazilian Pepper and Cotton Bush. Very little Cotton Bush was found and treated along with only a few shoots of Brazilian Pepper and Fig and scattered growth of the other weeds.
In Yalgorup National Park and neighbouring properties, weed control contractors recently revisited large infestations of woody weeds and Cotton Bush on the eastern shores of Lake Clifton, previously treated in 2019 and 2020. Here they cut and treated resprouting Wild Fig and Brazilian Pepper stumps, and sprayed and slashed Cotton Bush and other weeds that had proliferated after previous removal of the woody weeds. For more information on Cotton Bush click here
A different problem had arisen at McLarty Nature Reserve adjoining the eastern shores of the Harvey Estuary. Illegal four-wheel-drivers had found a way around a newly installed gate and fence through burnt bushland to access the estuary. PHCC worked with representatives from Department of Biodiversity, Conservation and Attractions (DBCA) to engage a fencing contractor to fence off the area with a heavy-duty cable fence designed to resist the best of bullbars and prevent vehicles from damaging the sensitive area surrounding the wetlands.
In other on-ground works, the Wetlands and People project is supporting the energetic community group Friends of Samphire Cove to deal with an old problem with past disturbances have resulted in open weedy areas at Samphire Cove Nature Reserve. To restore the bushland and to hold off the ever-threatening weed invasion we've helped out with weed spraying and the purchase of specially selected native plant seedlings and mulch to revegetate approximately 0.5 ha of the site. The Friends have promptly planted the seedlings out in good time to make the most of the record rainfall.
The unusually heavy rain has presented a range of different challenges for on-ground works crews across the Peel-Yalgorup wetlands, causing delays at times, but work must go on!
This project is supported by PHCC through funding from the Australian Government's National Landcare Program