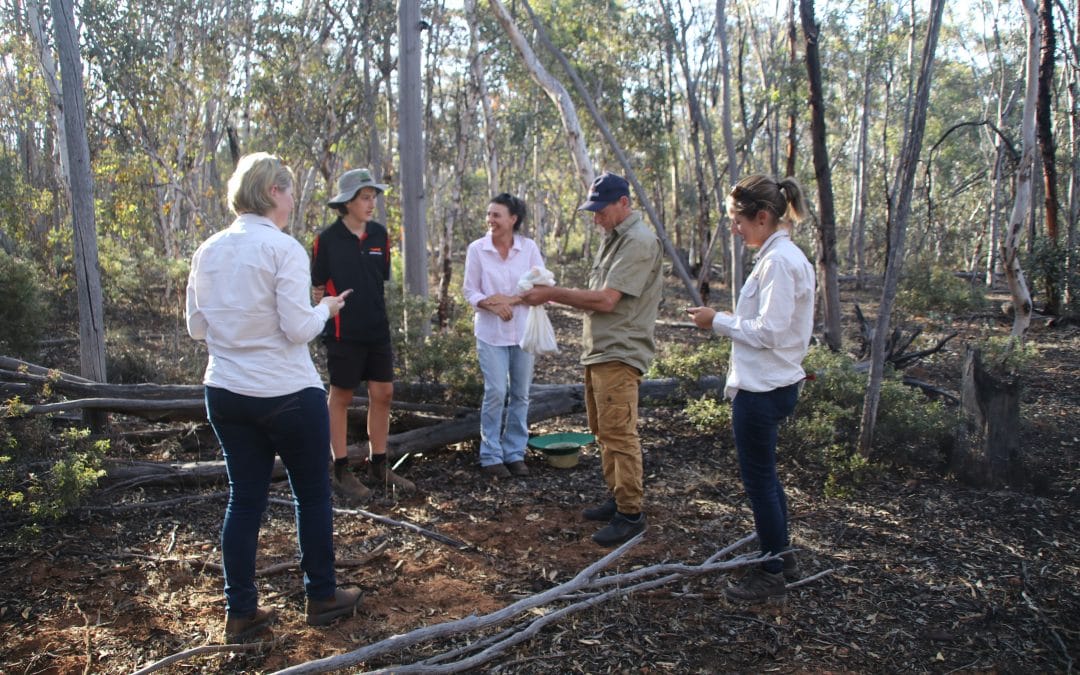 PHCC was lucky enough to be involve in the release of 11 numbats into Dryandra Woodland in December 2020, a great boost for the local numbat population. The numbats came from the Perth Zoo and Department of Biodiversity, Conservation and Attractions Breed for Release Program that is supported by PHCC through the Numbat Neighbourhood Project.
Local landholders, who have been involved in the Numbat Neighbourhood Project, were invited to attend the release. Dr Tony Friend had carefully selected hollow logs in Dryandra for the numbats to be released into. Local landholders together with Mel, Christine and volunteer Victoria from PHCC were excited to be part of this amazing experience.
The numbats had previously been fitted with radio tracking collars and the Department of Biodiversity Conservation and Attractions (DBCA) will monitor these individuals by tracking their collars to gain important information. Hopefully these numbats will settle quickly into their new home in Dryandra Woodland.
PHCC helps support the Perth Zoo and DBCA's numbat breed for release program by providing funding to secure termites to feed the numbats, help source wild-born numbats to provide new genetic stock for the captive breeding colony and for collars for their release. The breed for release program helps to ensure the security of existing self-sustaining subpopulations of numbats, extend the current distribution of the Numbat and ensure the genetic health and diversity is maintained.
This project is supported by the Peel-Harvey Catchment Council through funding from the Australian Government's National Landcare Program.