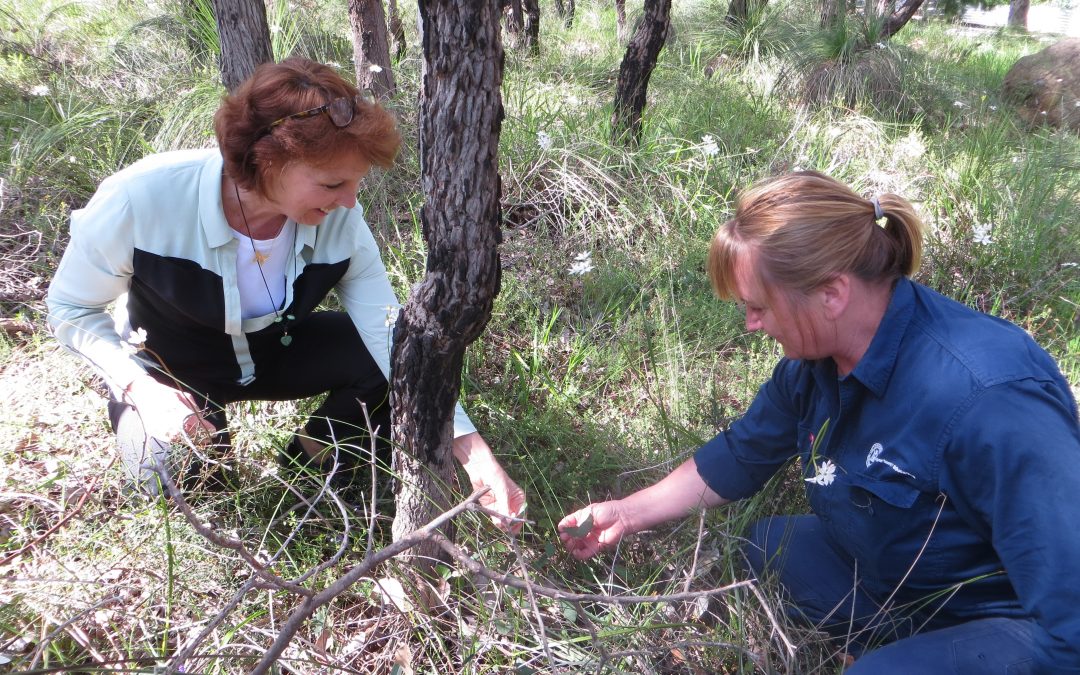 In a first for the Peel-Harvey Catchment, the North Dandalup Primary School launched their Action Plan on 14 June to protect and manage a 1.7 hectare bushland area on the school grounds. Although small in size, the bushland is big on value, and includes a rare example of native vegetation that has been largely cleared from elsewhere in the Perth and Peel Regions.
School principal, Marie Auvache, was pleased to see the Action Plan launched with most of the school's 134 students and teachers enjoying a walk through the bushland, affectionately named the 'Pathway to Nature'.
The launch included Local Noongar Community Representative, George Walley, sharing his knowledge and cultural stories with students and teachers as they walked through the bushland.
'The bushland gives us an open air, living classroom to teach the students so many things in the curriculum, from maths and ecology and to problem-solving and teamwork', said Ms Auvache, 'And children love to be in the outdoors. It balances the time that we are spending indoors or on devices.'
The School, renowned for its environmental programme over the past two decades, has planted over 35,000 trees in surrounding districts since 2000 and has cared for the Bushland for many years. Preparing an Action Plan for the Pathway to Nature Bushland was the logical next step.
The Plan and related projects were managed by Landcare SJ, a community-based Landcare hub operating out of Mundijong, that has helped the School manage the Bushland over the past 17 years.
'Both the School and the Landcare SJ team wanted the Plan to be simple and spell out the most important actions required to protect and manage the Bushland over the next 10 years', said Landcare SJ Chairperson David Lindsay.
Maintaining fencing around the bush, controlling weeds and feral animals, and adopting a strategic approach to controlled burns are among the actions set out in the Plan. Landcare SJ will help the School implement the Plan.
The Action Plan project, along with on-ground weed control, flora surveys and feral animal control in the Bushland, was funded by the Peel-Harvey Catchment Council through its Community Environmental Grants with the support of the Australian Government's National Landcare Program.
The Action Plan is the first management plan based on a new model designed by the PHCC for community groups, schools and local governments. The new model is designed to prepare simple management plans for bushland or wetland reserves where a more complex management plan may not be required or possible given time and resourcing constraints.
PHCC Acting Chairperson, Ms Marilyn Gray hopes that other schools, local governments and community groups will consider using the Action Plan model before they prepare their next bushland management plan.
'We are really pleased to have been able to fund Landcare SJ to prepare the Action Plan for the North Dandalup Primary School. The school has long been recognised for their great work in caring for the environment. They do such a great job of caring for their patch of bush and using it as a living classroom. Full marks to everyone involved in this project' said Ms Gray
For further information on the Action Planning approach please contact Andrew Del Marco at the PHCC
ENDS
Media Contact: Jane O'Malley, Chief Executive Officer, Peel-Harvey Catchment Council, Jane.Omalley@old.peel-harvey.org.au, (08) 6369 8800
We acknowledge the Noongar people as Traditional Custodians of this land and pay our respects to all Elders past and present