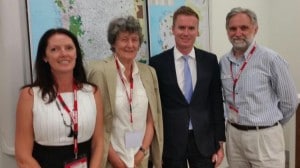 Staff from the Peel-Harvey Catchment Council have stepped up advocacy on matters relevant to regional natural resource management within the catchment, holding three separate ministerial briefings this month.
Chair Jan Star said productive meetings had been held with Hon. Mia Davies (Minister for Water; Sport and Recreation; Forestry), Hon. Albert Jacob (Minister for Environment; Heritage) and Hon. Bob Baldwin MP – newly appointed Parliamentary Secretary to the Federal Minister for the Environment.
"Following the recent visit to Peel-Harvey Catchment Council by Hon. Greg Hunt, we spoke with Mr Baldwin and Mr Don Randall MP regarding potential Green Army projects in the region. We have also had very productive meetings with state ministers Mr Albert Jacob and Ms Mia Davies regarding the ongoing delivery of our current natural resource management plans and linkages with the Strategic Assessment of Perth and Peel Region," said Jan Star.
"It is imperative we advocate for the protection of the ecological character of the Peel-Yalgorup system. We met to request clarity on proposed water quality projects and discussed issues of national environmental significance and other matters the relevant state departments are engaged with. Peel-Harvey Catchment Council is fortunate to have excellent relationships with state and federal departments, and such meetings help us manage our catchment more effectively."
The Peel-Harvey Catchment Council works closely with a wide range of project partners and agencies to explore and develop environmental projects that underpin recreational, social and economic opportunities within the catchment.
ENDS
Contact: Jane O'Malley, Chief Executive Officer, Peel-Harvey Catchment Council, Jane.Omalley@peel-harvey.org.au , (08) 6369 8800