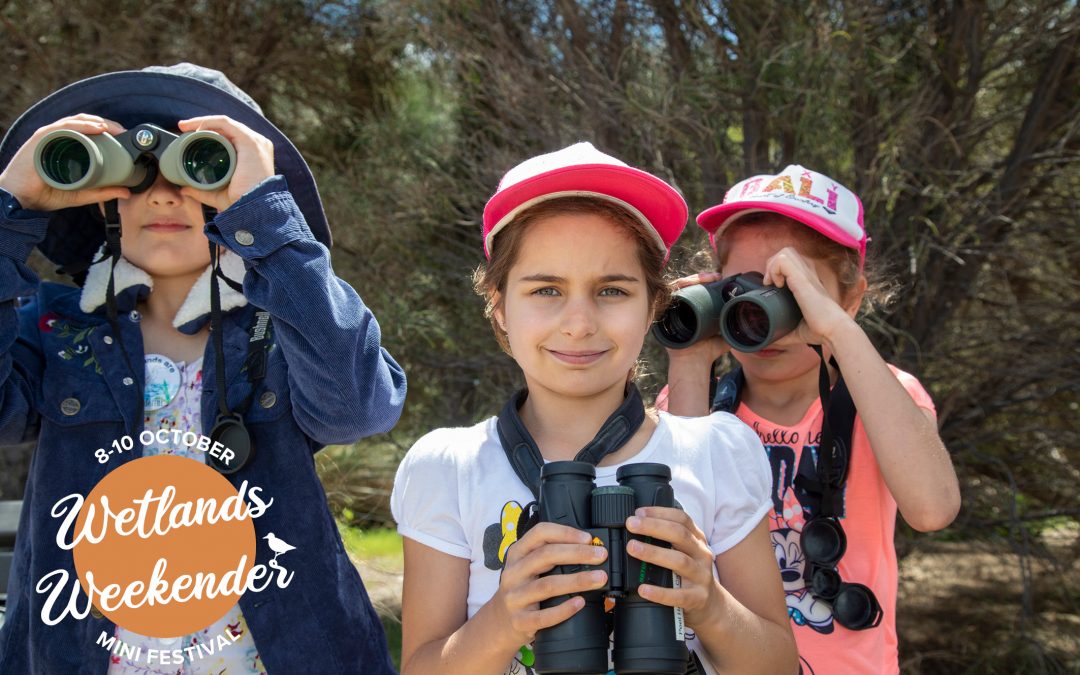 Join us in celebrating nature and especially our wonderful waterways and environment these school holidays with PHCC's Wetlands Weekender festival on 8-10 October in Mandurah. The program is packed with fantastic family-friendly activities, including a cultural tour and wildlife cruise, a Science Café, a dinner event and a foreshore festival! 
Be sure to visit the festival webpage for further information and to secure your place for the ticketed events: https://peel-harvey.org.au/wetlands-weekender
The Wetlands Weekender festival brings the community together to celebrate and learn more about the Peel-Yalgorup Wetlands, recognised for more than 30 years as internationally significant through the Ramsar Convention for the habitat they provide for migratory birds and for a diversity of other species such as fish, crabs, dolphins and threatened ecological communities like the thrombolites at Lake Clifton. The festival also celebrates World Migratory Bird Day, welcoming back these winged travellers to our shores after their breeding season in the northern hemisphere and offering opportunities to explore nature and get involved in caring for our waterways.
The Wetlands Weekender will launch on Friday 8 October evening at the Sebel Hotel with the "Journey Through Our Flyway Dinner". Participants will enjoy a three course meal inspired by the journey of migratory birds that visit our wetlands. Along with MC Paddi Creevey OAM and Noongar Elder Franklyn Nannup, participants will also hear from international guests sharing their stories of conservation and international collaboration. Ticket sales close on 3 October for this event, so make sure to secure your place.
Saturday 9 October, is 'World Migratory Bird Day' which we will celebrate by embarking on tours of our Ramsar-listed wetlands of international importance starting with a Noongar cultural tour in the morning led by local Noongar Community leader George Walley. The afternoon features an estuary cruise aboard a Mandurah Crusies boat with expert commentary about water birds and other wildlife including our Peel-Harvey Estuary dolphins, followed by the Wetlands Wander guided nature walk at Creery Wetlands led by Ways to Nature in the afternoon. These ticketed events are likely to sell out, so visit our website to secure your place!
On Saturday evening a Science Café event 'Creatures of the Deep' will hosted by Peel Bright Minds at Tod's Café in Mandurah, inviting participants to an informal but informative discussion with scientists from Murdoch University who will share tales of weird and wonderful watery creatures that live in our waterways which even locals might not have heard of.
The festival concludes on Sunday 10 October with its main event – the Wonders of Our Wetlands! Coodanup Foreshore will come alive from 8am to noon with live music, vibrant market stalls, and various food trucks and coffee vans.  Come and join in with a range of exciting interactive activities for all ages offered by the Bindjareb Middars, Coastal Waste Warriors, Mandurah Environment and Heritage Group, Peel Bright Minds, BirdLife WA, WA Seabird Rescue, The Wetlands Centre Cockburn, Swanlandia Inc, Salt & Bush Eco Tours, Ways to Nature, Sharon Meredith Photography, Sciteam, The Nature Conservancy, Greening Australia and others at their foreshore stalls.
Community members can attend this free event on Sunday 10 October at any time between 8am to 12 pm, however, there are some special events happening throughout the morning:
10.30am: Welcome to Country and Cultural Dancing with the Bindjareb Middars.
8am to 10am: Dog's Breakfast – bring your furry friend and catch up with BirdLife WA and City of Mandurah rangers for a free breaky!
9am to 11am: Pave the Way Community Clean Up – join Coastal Waste Warriors team to clean up the foreshore and complete a citizen litter audit to help welcome our migratory birds back to the Peel-Yalgorup System.
8.30am or 10am: Kids' Nature Photography Adventure with Sharon Meredith
PHCC's Wetlands Weekender Festival is supported by the Peel-Harvey Catchment Council through funding from the Australian Government's National Landcare Program.