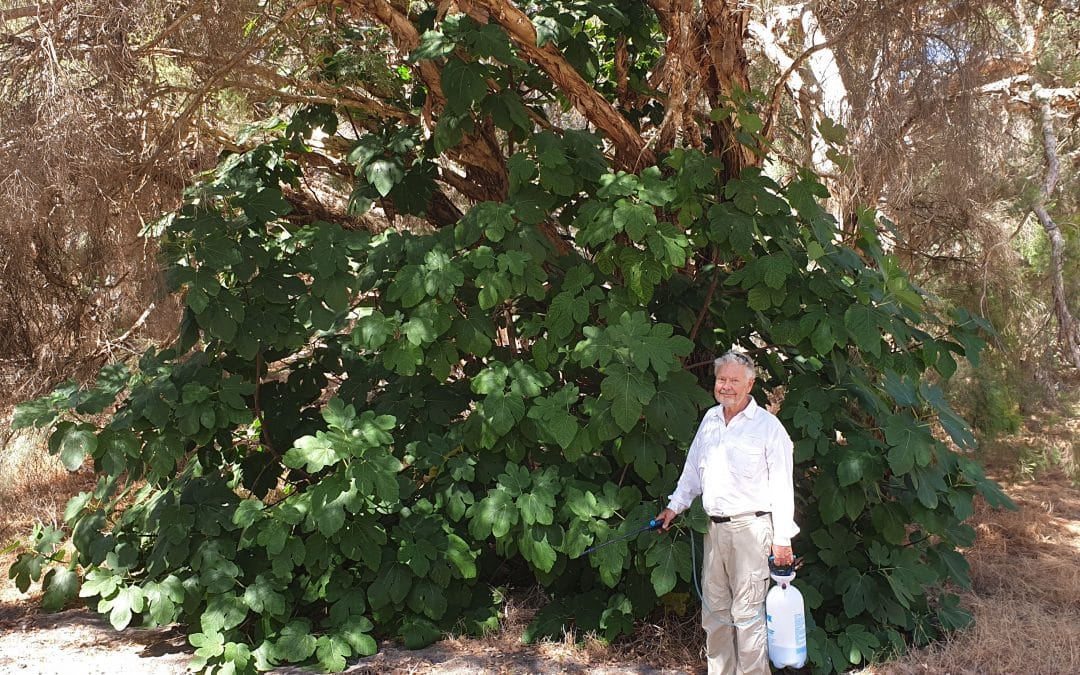 PHCC works closely with a variety of partners and stakeholders to protect the unique natural values of the Peel-Yalgorup wetlands through its Wetlands and People project funded by the Australian Government through the National Landcare Program / Regional Land Partnerships. The support of government agencies, community environment groups, the Noongar community and local government authorities is vital for this. While our internationally-recognised Ramsar Site (Ramsar 482) consists of waterways and land managed by state government agencies, our restoration actions should not be confined by the boundaries of the site. Natural landscape features are deeply inter-connected, so protecting a watercourse or a patch of bushland can't be done properly in isolation.
"Wetlands and People" on-ground activities typically start with a prioritised core area within the Ramsar 482 Site boundaries on government-managed conservation land. These core project areas are often flanked by privately owned properties, many of which share the same environmental issues. For example, a noxious weed infesting large areas of a nature reserve is usually a problem on the neighbouring properties as well. Even though some adjoining properties may be relatively small, the more people working together, the greater are the chances of long-term success of the project. Over the past 12 months, our Wetlands and People project has improved the management of over 400 hectares of natural area within the Ramsar site through a mixture of weed control works, feral animal control, revegetation and fencing in partnership with State government agencies. At the same time the project also improved management of over 300 hectares of adjoining private property, thanks to the support of land owners.
Weed control is particularly difficult to do in isolation as weeds have no respect for boundaries and will spread regardless. After devastating bushfires early in 2016, Narrow-leaved Cottonbush flourished across vast areas of bushland in the southern end of Yalgorup National Park and on neighbouring farmland near Lake Preston. An environmental weed contractor with a known history of working with land owners was engaged to combat the cottonbush. Two local landholders, staff from the Department of Biodiversity and Conservation (DBCA) and PHCC and the contractors agreed on a plan to control cottonbush across boundaries, resulting in cottonbush being controlled across approximately 240 hectares of the National Park and 120 hectares of adjoining private property. Both land owners had previously been working hard to control cottonbush on their properties but with an explosion of the weed after the fires, they were happy for the contractors to help out on their properties.
On the eastern shores of Lake Clifton, Brazilian Pepper (also known as Japanese Pepper) and Wild Fig had spread across several properties and into Yalgorup National Park, creating dense stands of woody weeds penetrating deep into the paperbark trees and wetland rush beds. These trees are very difficult to control without heavy machinery, and if left unmanaged, would pose a major threat to the wetlands. Building on from the work and valuable networking of the Lake Clifton-Herron Landcare Group, PHCC was able to offer woody weed removal service to three landholders on adjoining properties through its contractors while at the same time working with DBCA to control the trees in the National Park. This resulted in woody weed control work spanning three different neighbouring properties as well as the National Park. For the first time in many years, there is now a real possibility that this extensive infestation of pepper and fig could be eradicated from the local area, paving the way for revegetation with local species and property owners being able to reclaim their land.
Across the way on the shores of the Harvey Estuary, similar works are underway, with weed control being undertaken in the Kooljerranup Nature Reserve and fencing and revegetation works in a City of Mandurah bushland reserve. Owners of an adjoining property sandwiched between the two reserves have agreed to weed control on their property, resulting in contractors treating several hectares of cottonbush, scattered Apple of Sodom, a large Eastern States wattle tree and a problem fig tree growing among the paperbark trees. Thanks to the supportive land owners, the project has expanded to include a key bushland area – and the problem fig tree is now nothing but a stump! It's hoped that other local property owners may join in with weed control in future to create an even larger cross-boundary weed control area.
It's too easy to forget what is so often taken for granted – no one knows the local area like local people and when the power of local networking is also taken on board, along with genuine consultation and two-way discussions about local projects, the benefits of working with land owners is, as they say, a no-brainer. Everyone benefits when people work together.
This project is supported by Peel-Harvey Catchment Council, through funding from the Australian Government's National Landcare Program