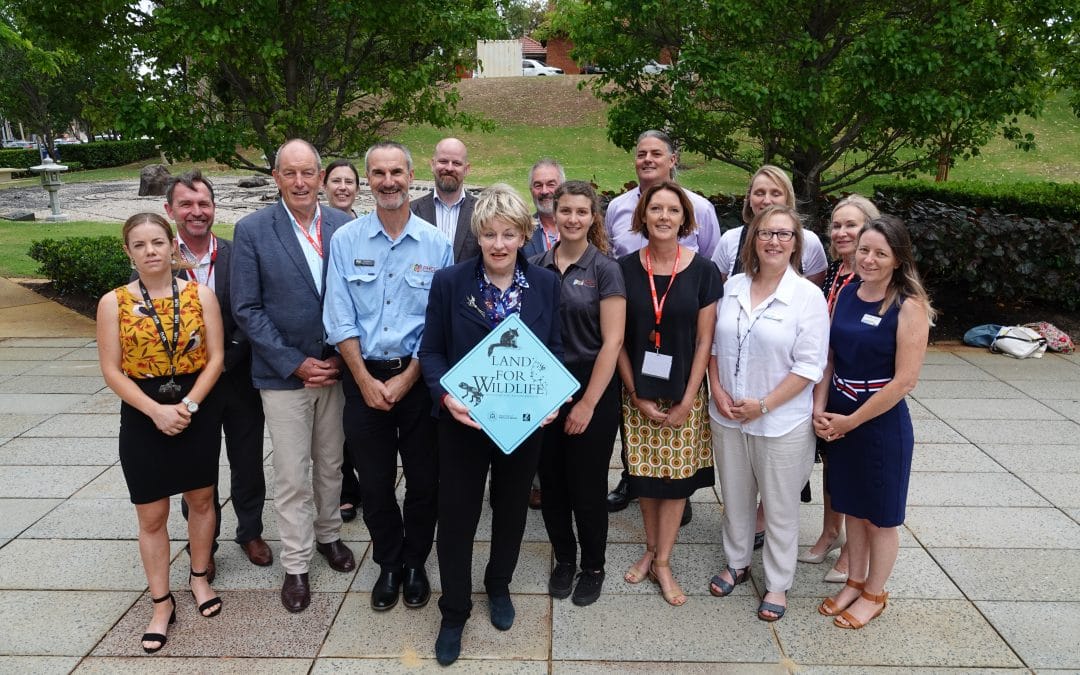 On December 19th, the much-loved national wildlife conservation program, Land for Wildlife, went digital in Western Australia.
The new online platform will enable landholders to more easily join and participate in the Land for Wildlife program.
Land for Wildlife has 1946 members across WA, and is growing at the rate of more than 50 landholders annually. Land for Wildlifers voluntarily manage over 1,062,000 hectares of WA's unique natural environment including habitat for significant species, such as Black Cockatoos and Western Ring-tailed Possum, and threatened ecosystems such as Banksia Woodlands. The program includes a wide range of landholders from those with a few hectares of bushland, through to farmers with large bushland areas and pastoral station leaseholders.
Minister MacTiernan said it was fantastic to see WA's seven regional Natural Resource Management (NRM) groups, with support from the State NRM Program, breath life back into the community-focused land conservation stewardship program.
"Land for Wildlife is great way for the State Government and regional NRM groups to provide technical and practical support to landholders who voluntarily take-up conservation on their own properties."
"Protecting our wildlife requires a State-wide effort and this project is a great way to assist landholders who are undertaking on-the-ground conservation."
The new online system has been developed by a collaboration of numerous organisations, led by Peel-Harvey Catchment Council, one of WA's seven NRM regional groups, and the Department of Biodiversity, Conservation and Attractions (DBCA). The collaboration includes NRMWA, WA's regional NRM group community, and environmental technology consultants Gaia Resources. The on-line system makes it easier for landholders to register their interest to join the program, and enables DBCA and the regions to provide better support to landholders once they have joined.
Those in the program receive a free site assessment report, advice on how to protect and restore wildlife habitat on their properties, and are directly connected to their regional NRM group. This can assist landholders to plan future restoration and management activities, and in some cases, provide opportunities for funding assistance to carry out on-ground works. The new system will also help to improve online communication between participating landholders, DBCA's Coordinator and the NRM regional groups.
Land for Wildlife is a free, non-binding program, and has operated in WA since 1997.
Minister Dawson congratulated the Department (DBCA), WA's regional NRM community, in particular PHCC, for their commitment to the Land for Wildlife program. "As there is increased pressure on the state's native wildlife, the role of landholders in providing habitat for threatened species and ecosystems will continue to grow".
NRM WA Chairperson, Dr Robert Keogh welcomed the launch of the new system.
"The new system will continue to boost interest in Land for Wildlife, and enable NRM regional groups to improve the support they provide to landholders conserving the environment. NRM groups directly support over 450 landholders each year to restore and conserve WA's precious environment. This is in addition to the support we provide to local landcare and environmental groups, local governments and state government agencies" said Dr Keogh.
The Land for Wildlife program is delivered by DBCA in partnership with WA's seven regional NRM groups: Rangelands NRM WA, Northern Agricultural Catchments Council, Wheatbelt NRM, Perth NRM, Peel-Harvey Catchment Council, South West Catchments Council and South Coast NRM.
Peel-Harvey Catchment Council Chairperson, Cr Caroline Knight, reinforced the importance of the Land for Wildlife program in supporting those in the community doing conservation on their own properties.
"This program is a relatively small, but critical way in which we can assist landholders who conserve habitat and wildlife for everyone's benefit. It is essential that government and regional NRMs continue to work together to grow this program" Cr Knight said.
Further information on the Land for Wildlife Program can be found at https://www.dpaw.wa.gov.au/management/off-reserve-conservation/land-for-wildlife
ENDS
Media Contact: Jane O'Malley, Chief Executive Officer, Peel-Harvey Catchment Council, Jane.Omalley@peel-harvey.org.au, (08) 6369 8800