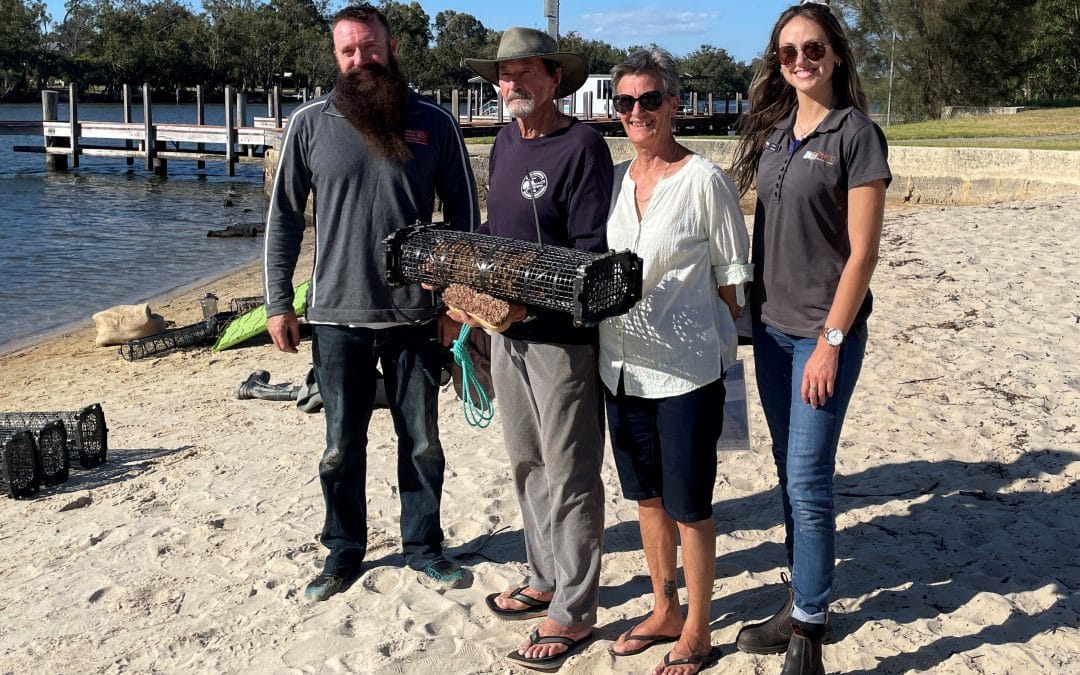 Following on from PHCC's 'Mussel Up For the Murray' event in December last year, 23 local landholders attended an event to receive shellfish gardening kits as part of an exciting citizen science project that focuses on promoting the growth of Black Pygmy Mussels (Xenostrobus securis) in the Murray River.
The gardening kits each included: a 15L commercial oyster basket, a weight, spat collection material, a cleaning brush, 30 live adult Black Pygmy Mussels and an attachment rope. On collection day, a demonstration on how to correctly construct and clean the baskets was provided, as well as instructions on how to record data through a simple recording sheet. The number of alive adult mussels and evidence of new mussels will be recorded through this project and in May this year, the data will be analysed by Dr Alan Cottingham at Murdoch University. Dr Cottingham will identify patterns and trends of mussel recruitment relative to location in the Murray River. This information will help indicate the preferred habitat of the Black Pygmy Mussel so that future projects identifying and prioritising areas to undertake in-stream restoration works can consider this important native species.
In total, 29 shellfish gardening kits were provided to participants. The baskets are now submerged in the river and are being closely monitored to give the mussels the greatest opportunity to successfully reproduce and survive.
This project and others such as, 'Stock Enhancement of Black Bream' being delivered by PHCC in partnership with Murdoch University, and the Community Shellfish Gardening Program being delivered by The Nature Conservancy, bring us one step closer to improving the health and biodiversity of our waterways.
This project is support by PHCC with funding provided by the State Government's Royalties for Regions, the Alcoa Foundation's Three Rivers One Estuary Initiative and the Australian Government's National Landcare program.