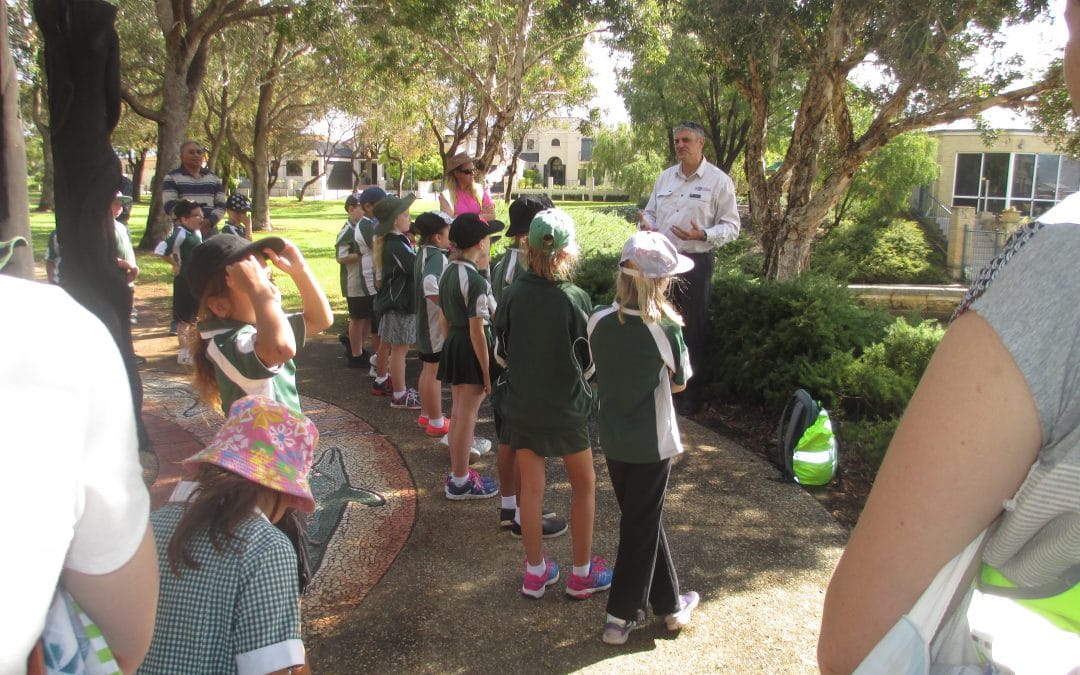 The tradition of Greenfields Primary School and PHCC taking learning outside of the classroom continues this year. This time it was the Year 2 students' turn to go on an excursion, with a trip to the western foreshore of the Peel-Harvey Estuary.
For the past 6 years, PHCC has partnered with Greenfields Primary School participating in at least one excursion per term. At the core of the team is Greenfields Primary School teacher Lee-Anne Walley, a champion teacher with a passion for reinforcing learnings from the inside the classroom through the Humanities and Social Science curriculum with hands on activities outside. Other team members are Bindjareb Noongar Community leader George Walley, who provides his insights as an indigenous custodian of the land (Bindjareb Boodja) and PHCC's Steve Fisher and Charlie Jones, who share their knowledge of our Ramsar wetlands and waterways and passion for their sustainable use. Depending on the theme of the excursion, we also invite guests from other organisations like BirdLife Australia, Ways to Nature to share their specialist knowledge with the students.
This term Lee-Anne called on Katrina Gauci and Nicholas Reynolds from the City of Mandurah to lead the students on a tour of Hall's Cottage describing its place in history in its own right as one of the oldest dwellings in Western Australia and now as a museum of our local history. George led a walking tour describing the history of the Mandurah Bridges and cultural connections to the waterways.
At the PHCC stop on the foreshore tour, Steve and Charlie spoke with the students about the changing flow dynamics and ecology of the Peel-Harvey Estuary over the past few decades from their vantage point on the western foreshore near the ANZAC memorial where, on cue, a couple of our resident Indo-Pacific Bottlenose dolphins stole the show. The students learned about how estuaries are a type of waterway that is a mixing point for water flowing in from rivers with water from the ocean. They also learned how this means that the species that inhabit estuaries include both species from the ocean that like living in salty water, and species from the rivers that like fresher water. They also heard about the influence of tides on the water level, and about how migratory birds come from the other side of the world to come and feed on the shores of our estuary in summer.
Excursions such as this one are a win-win as they provide us with the opportunity to promote the wise use of wetlands to our future community leaders and decision makers, while at the same time enriching the students' learning experience. We are already looking forward to our next excursion with Greenfields students next Term where we will visit areas higher up in the catchment at South Dandalup Dam and Dwellingup.
The school excursions are being delivered by PHCC through funding from the Australian Government's National Landcare Program.