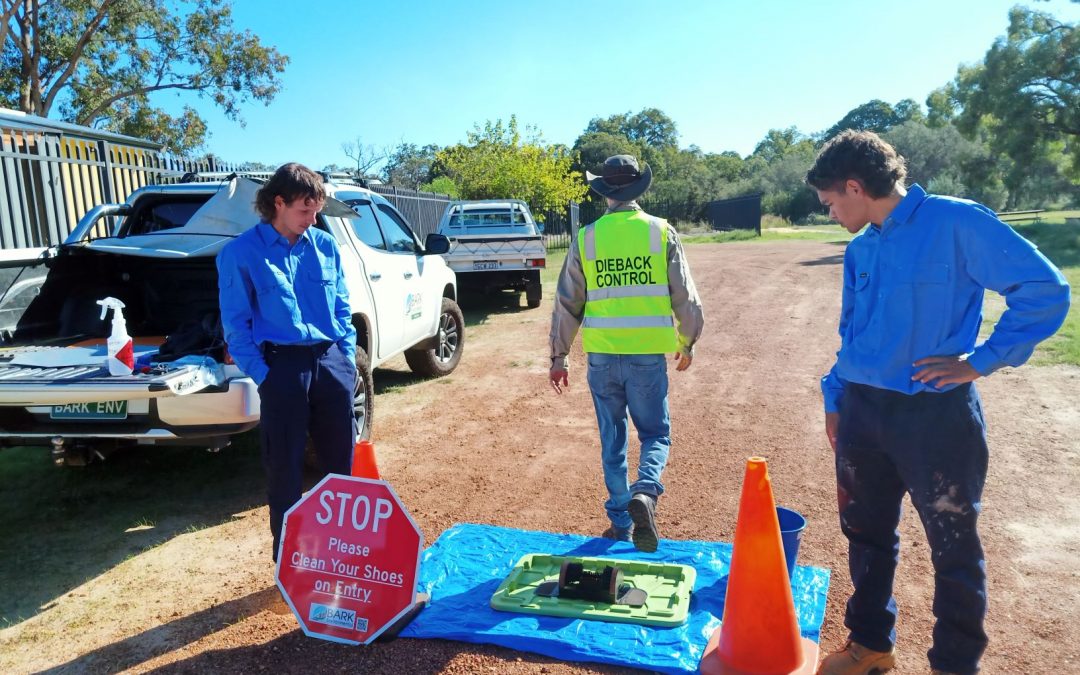 PHCC was pleased to support a recent Dieback Greencard training day for the newly formed Bindjareb Winjan Rangers and PHCC staff through our World for Woodlands, Banksia Woodlands project. This recognised training provides the skills and knowledge needed to manage the risk of Phytophthora Dieback in our woodlands.
The soil-borne plant pathogen Phytophthora cinnamomi that causes dieback is listed as one of the world's worst invasive species. Dieback from Phytopthora is recognised as a key threatening process to Australia's biodiversity. It affects more than 40 per cent of the native plant species and half of the endangered species in the south-west of Western Australia and it is a major threat to the Banksia woodlands of the southwest of WA, having a wide range of environmental, economic and social impacts. It alters plant community composition and habitat structure, reducing plant species richness, litter, shrub, tree and canopy cover and flowering, which in turn affects local bird, mammal and insects populations. Preventing the further spread of dieback through work and recreation is one of the important ways to minimise these impacts.
Held at the Murray Districts Aboriginal Association Building in Pinjarra, the training provided an understanding of the nature of the disease, how it spreads, how it is managed, an overview of relevant guiding documents and the skills on how to follow signage and clean and inspect footwear and equipment for soil, animal and plant material. The day included a presentation on the disease and walk through a nearby dieback affected site.
The knowledge gained will be invaluable for helping protect our woodlands at work and also during our time off.
The Banksia Woodlands project is funded through the Australian Government's National Landcare Program and the Winjan Aboriginal Corporation Rangers are supported by the Department of Biodiversity, Conservation and Attractions.