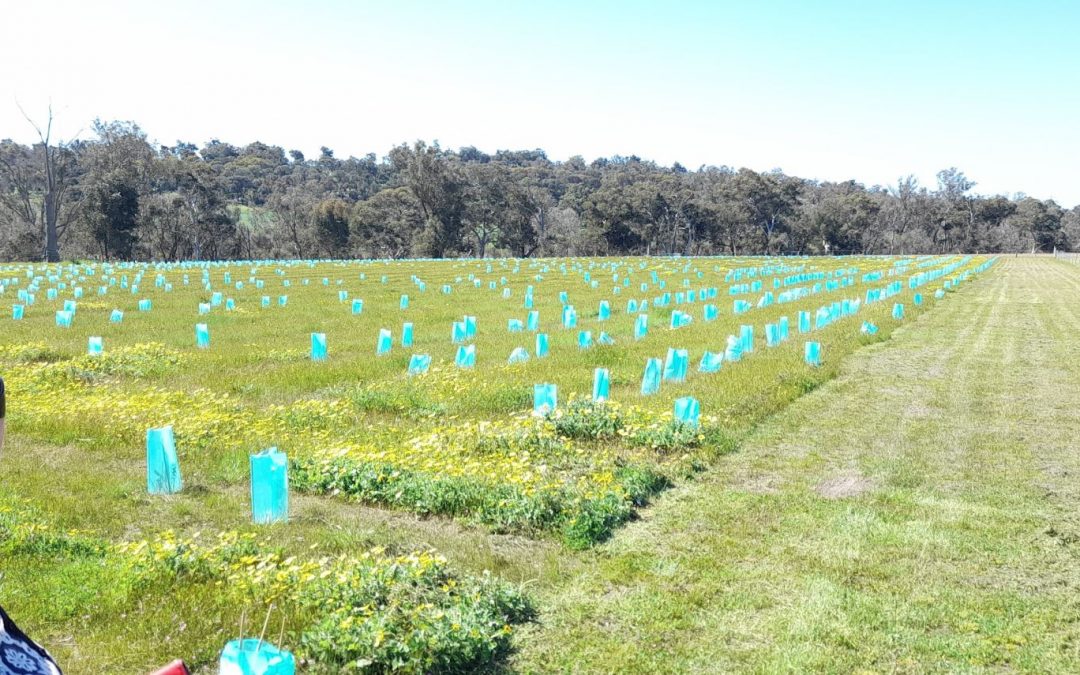 Jo-Anne and Wayne Perkins, from Crossman, planted native shrubs and tree seedlings at their property to provide more feeding habitat for local Black Cockatoos through the 2020 Greening Farms program. Their project included fencing 1ha of their property adjacent to the Hotham River and planting over 1600 native species known to be food habitat.
"We enjoyed the project; we picked plants that we know the cockies would feed on from species that were already nearby," explains Jo, who planted the patch of food plants with her husband and sons.
"Sure, it was hard when conditions were wet, windy and freezing, but enjoyable out in the paddock watching all the bird life," said Jo.
To manage weeds at their site, Jo and Wayne spaced their rows at 3m to allow for mechanical slashing and limited application of herbicide to just along each row that was planted. There was an unexpected benefit of leaving the old cow paddock un-sprayed between the rows of food plants. "It is lovely to see the White-tailed Black Cockies now eating the Storksbill (Erodium* spp) growing between the rows of trees we planted"
Black Cockatoos are in critical need of feeding habitat near waterways. This project is a huge benefit to those birds that spend their time around Crossman. Whether it's the short-term benefit of food like Storksbill plants, or the longer term value of the native plants that are now growing on the site, Wayne and Jo-Anne are very happy to know that there is an increase in the food available to their local flock – which is good news indeed for their future.
This project is supported by the Peel-Harvey Catchment Council through funding from the Australian Government's National Landcare Program