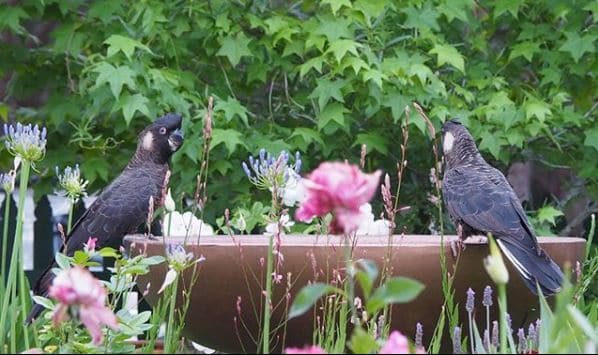 Successfully breeding and raising chicks is very demanding for our endangered and vulnerable Black Cockatoos. It is important they have daily access to suitable habitat: food, water and shelter. Landholders can contribute significantly to the protection and enhancement of habitat for Black-Cockatoos. As more habitat is made available, it allows for more bird pairs to use the area to breed. We are pleased to have funding to help in increasing habitat and are currently looking for Expressions of Interest to provide grants for those wishing to help.
Some simple ways you can help are listed below:
It takes over 100 years for trees to form hollows big enough for Black Cockatoos to nest in! So it's vital that you retain all large trees (Marri, Tuart, Jarrah, Wandoo), including dead trees (where safe), on your property. Protect your trees from livestock damage by appropriately fencing them.
Protect patches of Banksia and Eucalypt woodland on your property. Control weeds and grazing pests and ensure you manage disease such as dieback.
Improve the health of large trees and Banksias by planting small native shrubs and ground covers around their base. This protects the roots from damage and provides the right types of nutrients, fungi and soil conditions the native trees and plants need to flourish.
Provide water for Black-Cockatoos either as a trough, dam or a large bird bath raised at least 0.5m off the ground (minimum diameter of 40cm and depth of 20cm). Give them space around the water source to easily fly in and out to drink.
Plant more food plants for Black-Cockatoos on your property such as Marri, Banksia and Hakea.
Remove pests (such as bees, galahs) from natural or artificial nesting hollows. Seek professional advice if appropriate.
Consider installing a 'Cockatube' on your property (if you are in a known breeding area) and then monitor it regularly throughout the breeding season (August to January) to see if it gets used by Black-Cockatoos (or other bird species). Report any breeding activity to BirdLife Australia. Seek advice before installing.
More information can be found on BirdLife's website here: http://www.birdlife.org.au/projects/southwest-black-cockatoo-recovery
Funding for landholders
Funding is currently available for landholders with property within 12 km of known Black Cockatoo breeding sites to undertake on-ground activities that improve their breeding success.  Eligible activities include planting native food species; providing/maintaining water sources; providing/maintaining nesting tubes; removing pests from natural hollows; pest and weed control in bushland; fencing to protect bushland. Applications close August 31st 2020.  Click on the following link to be directed to the funding guidelines: https://peel-harvey.org.au/grants/community-environment-grants-2020-2021/
If you are interested in receiving funding, or wish to receive more information, please contact Megan LeRoy at megan.leroy@peel-harvey.org.au or 6369 8800.
This project is supported by the Peel-Harvey Catchment Council through funding from the Australian Government's National Landcare Program.