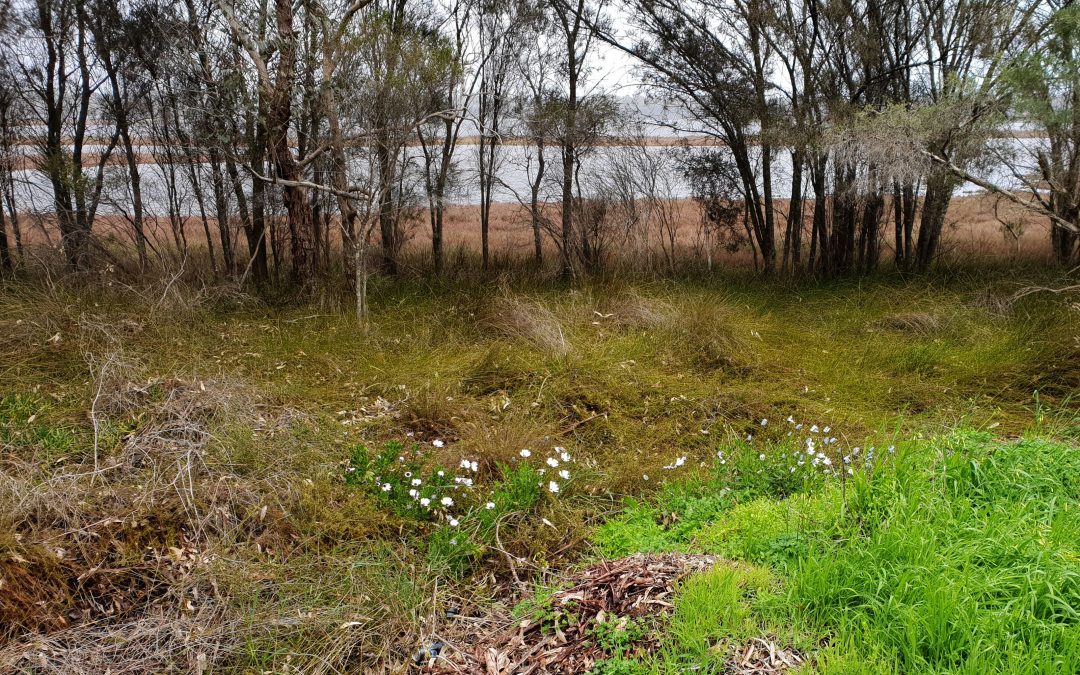 Ask anyone involved in looking after community bushland, bush reserves or national parks – one of the biggest threats to our unique flora and fauna is weeds. This is especially true in and around the internationally-recognised Peel-Yalgorup Ramsar wetlands, where PHCC staff work with landowners, community groups and various agencies to control the ongoing spread of weeds. But they continue to spread. Officers heading out into the wetlands to look at management issues are constantly finding more outbreaks of exotic plants thriving and spreading in the damp conditions. Every outbreak represents a threat to rare flora, wildlife habitat and food resources, and entire ecosystems.
Many of our current weeds were brought in historically when there was little or no awareness of the problems that they cause to our economy and environment, though other weedy species are relatively new arrivals. Some weedy plants were introduced as ornamental trees and shrubs, some for cropping and to feed livestock, some for utility plantings, for example for shade, wind breaks etc. Some were accidental introductions too, brought here on ships stopping carrying food and supplies from foreign countries. But most environmental weeds, or bush weeds, were brought here as garden plants because of their attractive flowers and/or foliage. It's important to note here that invasive plants are never considered weeds until much later after planting – typically decades later – and only after spreading extensively and causing serious problems. Bush carers sometimes use the expression "people don't see weeds" – and this is the reason why these exotic plants are so often allowed to spread and establish in our unique wetlands before anything is done to control them.
It is estimated that over 60% of all environmental weeds in Australia started as garden plants, or "garden escapees". It is a recurring pattern – plants with colourful flowers and attractive foliage are planted in garden beds around a house and perhaps along the driveway and in the back yard. After a couple of years, the plants are doing well, and after a few years they may be seen popping up on neighbouring properties. It may take 20 to 30 years before they are evident across neighbouring properties and local bushland. This is exactly what is happening with many exotic species around the Peel-Yalgorup wetlands. Two well-known examples are Watsonias and Arum Lilies. Both are native to South Africa, both were planted in settlers' gardens and farm houses for many years and admired for their attractive flowers. Unfortunately they are now degrading hundreds of hectares of wetland and bushland from Albany to Geraldton with major infestations across our local Ramsar wetlands. Both Watsonias and Arum Lilies are bulbous and so are able to tolerate prolonged dry conditions; and both are very difficult to control. Despite what is known now, some local gardeners still plant Arum Lilies in their garden. Many other bulbous weeds in our local wetlands also have attractive flowers belying their garden origins including Pink Gladiolus (from South Africa), white or pink-flowering Freesias (from South Africa) and Soldiers (Lachenalia aloides), a small plant with orange flowers – also from South Africa. There are also several attractive daisies that have jumped from gardens to bushland – one that has spread extensively around local wetlands in recent years is still planted widely in the Mandurah area: Veldt Daisy (Osteospermum ecklonis). It has attractive large white flowers with blue centres and is very hardy. It can be seen spreading into wetlands from gardens all around Mandurah and surrounding suburbs and towns. Some of the more serious woody weeds in the Peel Yalgorup wetlands that started out as garden ornamentals include Flinders Ranges Wattle (Acacia iteaphylla), Sydney Golden Wattle (Acacia longifolia) – both with masses of bright golden flowers in early spring – and Victorian Teatree (Leptospermum laevigatum). Pampas Grass, Bridal Creeper, Fountain Grass (Pennisetum setaceum) and Morning Glory are further examples of the many other introduced species that started out as attractive garden plants and are now established and degrading the local Ramsar wetlands. They all have attractive flowers or form.
Sadly about 10 new weed species are being detected in Australia every year and most of these are garden ornamentals. It's up to all of us to be vigilant and to encourage others to look beyond colourful flowers and to choose environmentally-friendly species that don't escape into our precious wetlands.
For more information on wetland and bushland weeds: