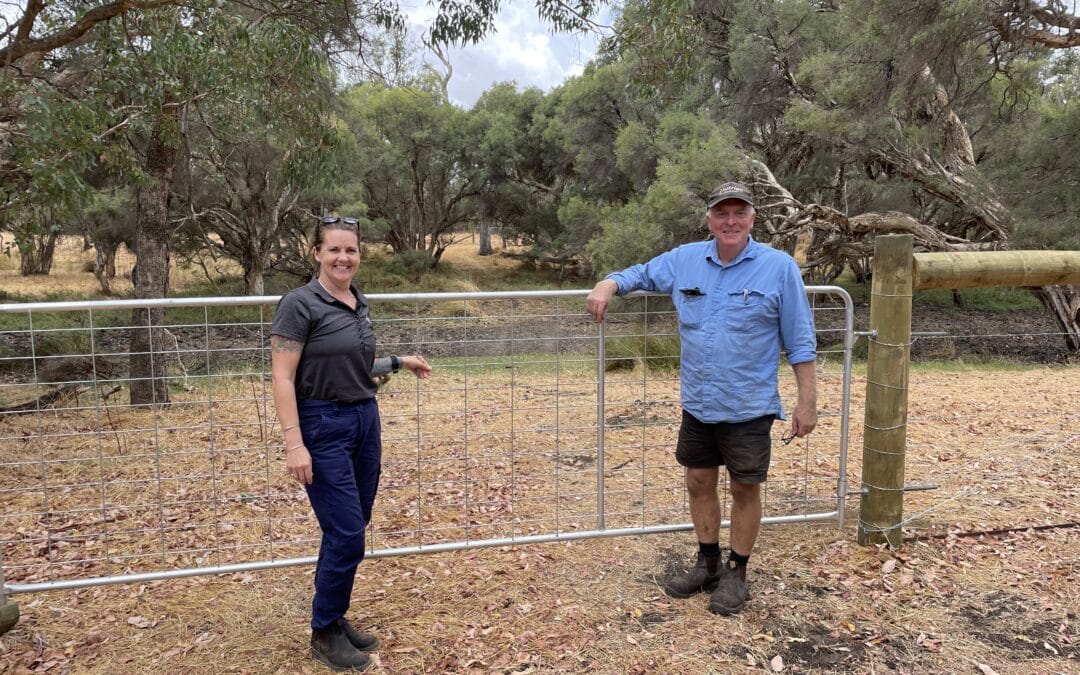 Local Farmers and Landholders are taking advantage of grants available to assist with fencing and revegetating streams, creeks and waterways on their properties. One such Landholder, Rod Pullin has recently made use of the Healthy Estuaries, Stream Restoration Fencing and Revegetation program delivered through Peel Harvey Catchment Council.
The Healthy Estuaries WA program has provided a fantastic opportunity for Rod, a local farmer to not only help manage stock on his property but to also contribute to improving the quality of the Peel Harvey Estuary.
Having access to this funding has enabled Rod to continue existing fencing on his property to restrict the access his cattle has to Buchannan's' Drain, a waterway that discharges into the Murray River Lower reaches. Every kilometre of fencing on our drains and waterways throughout our catchment is ultimately playing a part in improving the over health of the estuary by reducing nutrient and sediment loading.
Landholders like Rod that have taken advantage of the funding are encouraging others to do the same. Many farmers have reported that the benefits outweigh any perceived losses when it comes to fencing their waterways. One farmer stated he is no longer looking for his cattle in the bush, nor is he as concerned with stock being trapped in the mud or creek line. He also said that fencing further back from the tree line and vegetation zone on his creeks and drains means he spends less time repairing or replacing fences due to fallen limbs. All this saves time energy and money that can be used elsewhere on the farm.
Up to $4500 per Km of fencing is available to eligible landholders under this initiative. Additional funds are also available for alternative watering points, stock crossings and gates. The landholder must contribute 50% of the total cost of the project, either in cash or in-kind support. Farmers and land holders can contribute knowledge and expertise enabling them to complete the installation of the fencing themselves or engaging trusted contractors to complete the work. Revegetation within the fenced area is also funded through the program.
The Fencing and Revegetation program is open to grazing farmers on both large and small properties located through the Peel Harvey Catchment. The Ramsar Listed Peel-Harvey Estuary is the largest and most diverse estuarine complex in South Western Australia. Unfortunately, the estuary is suffering from pressures that threaten the natural values and lifestyle of the region. Thanks to landholders like Rod undertaking on-ground actions such as fencing and revegetation and on their properties, the local community supported by the Peel Harvey Catchment Council can directly contribute to improving the over health of our beautiful estuary.
For more information and to check your eligibility click the link below or contact our Healthy Estuaries officer Bec Mackenzie on 0409 593 739
https://peel-harvey.org.au/grants/funding-opportunity-fencing-and-revegetation-of-foreshore-areas/
This project is a part of Healthy Estuaries WA – a State Government Royalties for Regions program that aims to improve the health of our South West Estuaries.