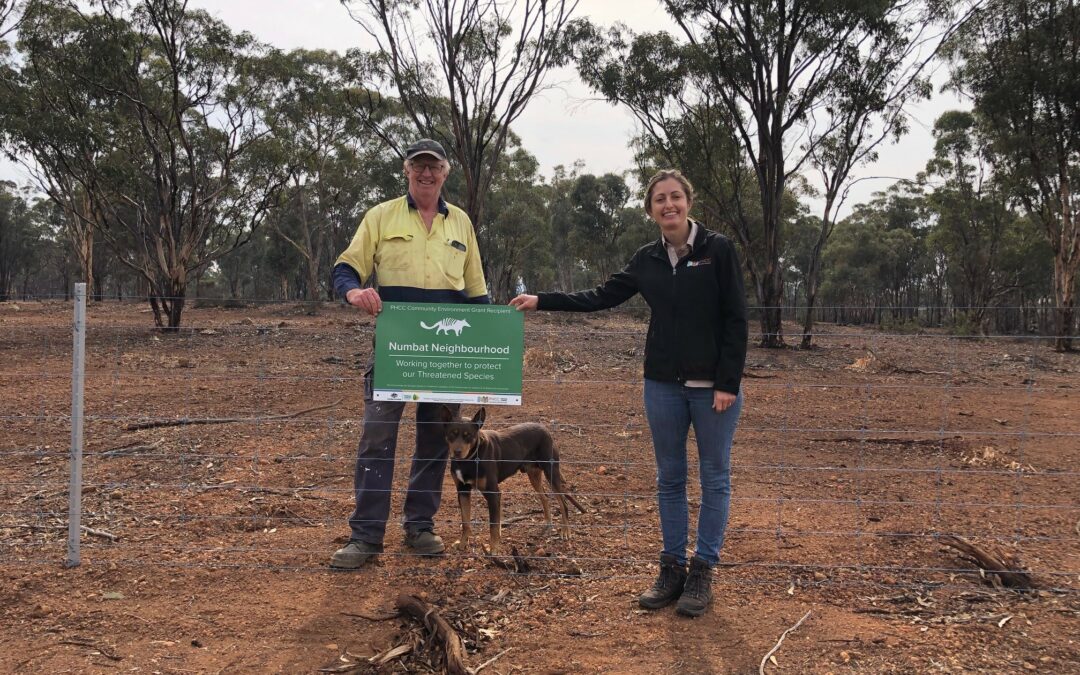 Landholders in the Hotham Williams have recently completed fencing for their Numbat Neighbourhood Community Environment Grant Projects and it has been great visiting these properties to see their efforts to protect and enhance on-farm habitat for threatened species.
Through the Numbat Neighbourhood Project we have been able to support landholders in Williams, Cuballing and Popanyinning to fence to exclude stock from over 80 ha of on-farm habitat this year. Grazing stock degrade can degrade bushland through eating and trampling native vegetation, ring barking trees, compacting the soil and spreading weed seeds. Over time, grazing degrades understory vegetation until only older trees and shrubs remain and no seedlings survive. Removing stock from on-farm patches of bushland allows the vegetation to regenerate and enhances this habitat for threatened species such as numbats.
PHCC is in its fifth year of the Numbat Neighbourhood Project and to date we have supported landholders to fence to protect 600ha of on farm habitat through over 50km of fencing. We will continue to support these landholders to further enhance habitats through direct seedling, monitoring and habitat supplementation. We are also planning a workshop to assist landholders to monitor these bushland patches for native fauna and to enhance the habitat by installing next boxes and hollow logs.
This project is supported by the Peel-Harvey Catchment Council through funding from the Australian Government's National Landcare Program, Newmont Australia and South32 Worsley Alumina.