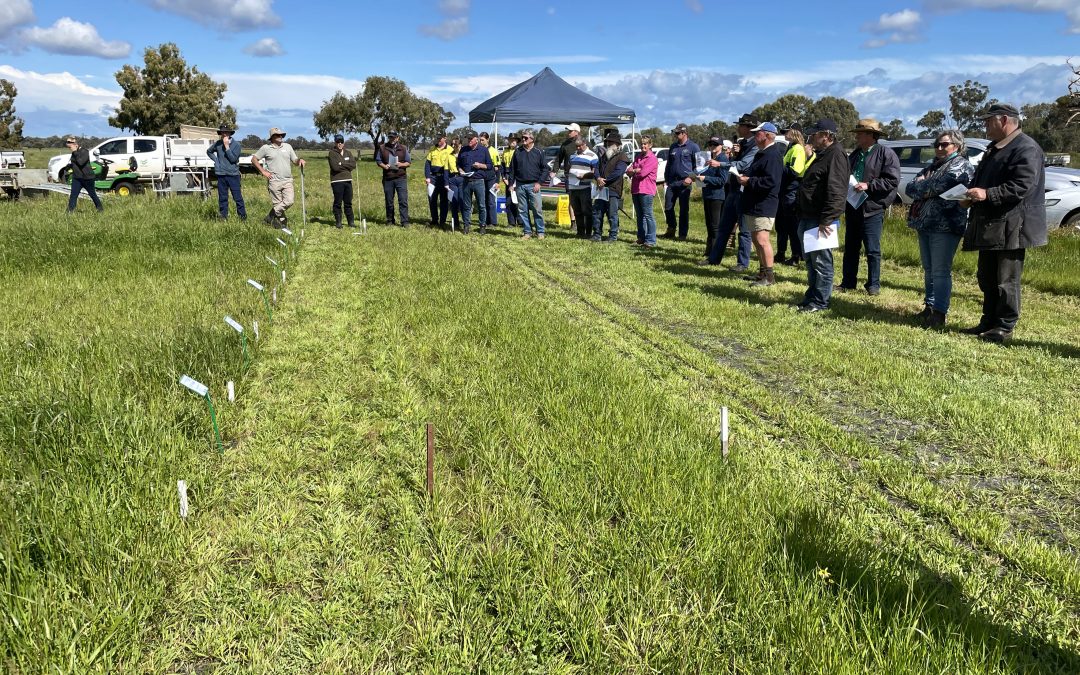 The trial was implemented on a property in Waroona with low Phosphorus Buffering Index (PBI) soils (meaning a low ability to retain phosphorus), and with low phosphorus (P) fertility (=0.54).
Superphosphate was added at different rates across the treatment plots at the start of the season. In addition, some of the plots received a dose of basal fertiliser NKS (nitrogen, potassium, sulphur and trace elements) at the start of the season and then a top up N, K and S after each pasture cut. No additional P was added during the season.
Results at the field day showed that the treatments receiving high rates of phosphorus fertiliser had no difference in growth to the treatments receiving nil, indicating that the site was not responsive to P. There was some obvious growth difference in the pasture that had received a top up of NKS, indicating these nutrients were a limiting factor in the soil conducive to pasture growth, rather than P.
The key message of the trial was the importance of getting your soils tested to see what is lacking in your soil, and addressing that first. In this case a farmer could unknowingly waste money applying superphosphate to their pasture expecting a good season of growth, with little to nil result, and the P washed straight into the drain.
32 uPtake trial site have now been implemented in the greater South-west (Peel-Harvey to Oyster Harbour catchments). These uPtake trials, will improve farmers' understanding of nutrient requirements for productivity to keep nutrients and profits on farm whilst reducing losses to waterways and estuaries.
Results from the trials will be compared to data from the national Better Fertiliser Decisions for Pastures project to ensure they are relevant and applicable to south west WA.
This project is supported by PHCC in partnership with DWER with funding from the National Landcare Program's Smart Farming Partnership Project.