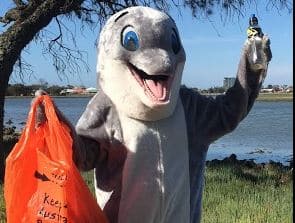 Date/Time
Date(s) - 01/03/2020 - 31/03/2020
All Day
Categories

Map Unavailable
The year 2020 is a big year for the local Ramsar Wetlands – The Peel-Yalgorup System. For 30 years these wetlands have been listed as globally significant under the International Convention on Wetlands (or Ramsar Convention). The beautiful wetlands are home to over 50,000 migratory shorebirds, a very rare colony of living thrombolites, and a wide variety of other unique flora and fauna. This wetland system is under threat by human activity, litter and illegal dumping playing key roles in impacting the wetland.
Clean Up Peel Waterways was initiated to remove litter from the Peel-Yalgorup Ramsar Wetland. Every year for the whole month of March, teams gather to conduct clean-ups across various sites of the Ramsar Wetland. Peel-Harvey Catchment Council supports the Friends of Rivers Peel to coordinate the month-long Clean Up Peel Waterways Event. Now in its fourth year, the event is growing stronger and has developed a great local following. Last year 17 teams and 300 volunteers worked together and removed 7 tonnes of rubbish from in and around the Peel waterways of the Ramsar482 site. This year we are aiming to grow community involvement and make the event to be even bigger and better so we can really make a difference for our Ramsar wetland and the wildlife that inhabit it.
For more information or to get involved contact: support1@peel-harvey.org.au
This project is supported by Peel-Harvey Catchment Council through funding from the Australian Governments National Landcare Program.