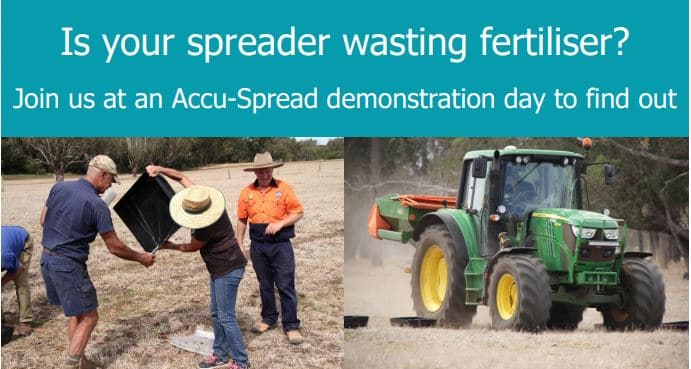 Date/Time
Date(s) - 07/06/2022
8:00 am - 2:00 pm
Categories

Did you know the majority of fertiliser spreaders deliver highly variable spread patterns? This means some areas in the paddock receive too much fertiliser and others too little.
Australia's leading Accu-Spread specialist Russell Nichol will demonstrate how to test and calibrate fertiliser spreading equipment to increase productivity and reduce nutrient loss to waterways.
This field day is hands on and Russell will demonstrate how to make adjustments to your spreader.
You have the opportunity to bring your own spreader to the event and get it tested! Russell will only have time to test up to 6 spreaders on the day, so reply to Megan early if you are keen to bring it, and let her know the make and model.
The field day in the Peel-Harvey will be on Tuesday the 7 June from 8am-2pm in Pinjarra (Meelon area), lunch provided. The address will be provided when you register via return email megan.leroy@peel-harvey.org.au.
Please respect farm biosecurity and arrive clean and weed free.
If you can't make it on the 7 June you can attend at another catchment (dates below, email Megan for more info):
June 8 – Leschenault
June 9 – Geographe
June 10 – Lower Blackwood
June 13 – Wilson Inlet
June 15 – Oyster Harbour
Please see flyer attached for more information. 2022_Accu-Spread_Flyer
You can also view this video to see what the day will entail: https://www.youtube.com/watch?v=sxGgn5khI40&feature=youtu.be
RSVP prior to 2nd June megan.leroy@peel-harvey.org.au