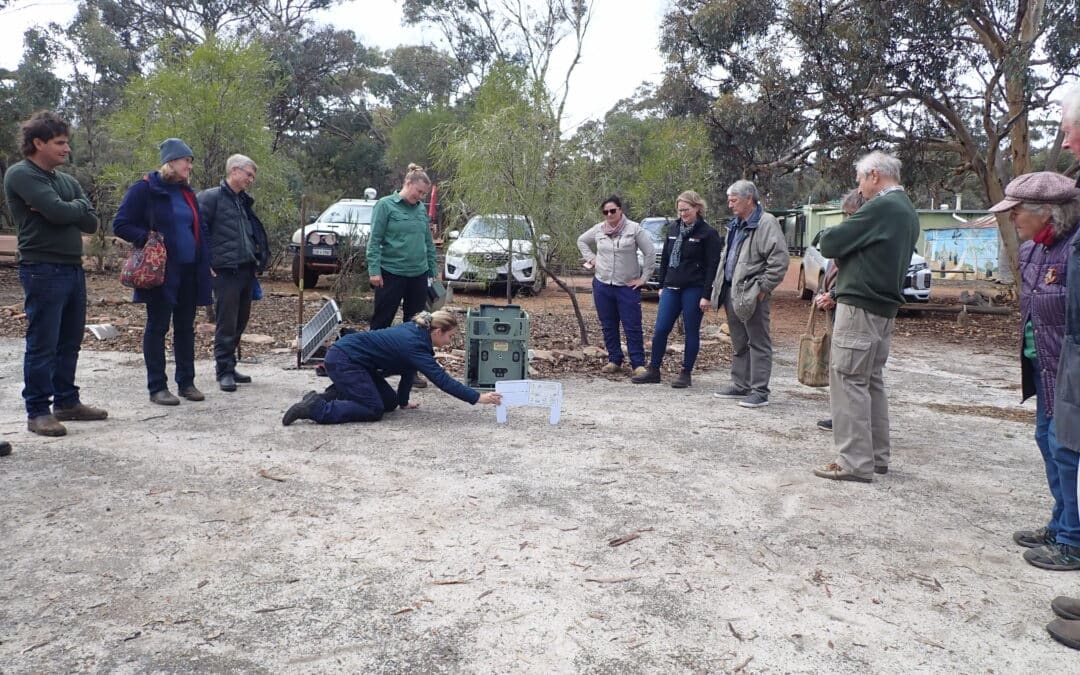 Local landholders recently attended a workshop in Dryandra Woodland to learn more about PHCC's Dryandra Woonta Project which includes the first Wheatbelt trial of the Felixer™ cat grooming trap. >>
Guest speakers included Travis (Jock) Abraham, Wiilman Noongar Elder, who welcomed attendees to country. Dr Karen Bettink (PHCC) gave an overview of the Dryandra Woonta Project which will include a non-toxic trial of the Felixer™ on private property surrounding Dryandra Woodland and other targeted feral cat, fox and pig control to reduce threats to numbats and chuditch. Dr Judy Dunlop (WA Feral Cat Working Group), who has previously trialled the Felixer™ in the Pilbara, shared her knowledge and demonstrated how the Felixer™ identifies cats as a target animal.
John Reid (Thylation), who invented the Felixer, spoke to landholders via a prerecording about how Thylation took advantage of cats natural grooming behaviour to develop the Felixer™ which uses rangefinder sensors to distinguish target cats and foxes from non-target wildlife and humans, and spray targets with a measured dose of toxic 1080 gel. The Felixer™ is solar powered and photo graphs all animals detected. Attendees then enjoyed a demonstration and got to hear some of the audio lures used attract the feral cats.
Directly after the workshop the Felixer™ was set up on a farm near Dryandra Woodland to start the non-toxic trial. A monitoring camera was set up facing the Felixer™ to see how feral cats and other fauna interact with the unit. Already we are getting great results from the trial with a number of feral cats being targeted. Over the course of the year we will trial the Felixer™ on a number of different farms surrounding Dryandra and within Dryandra Woodland National Park in partnership with Parks and Wildlife Services.  We look forward to sharing the results from the trial with the community.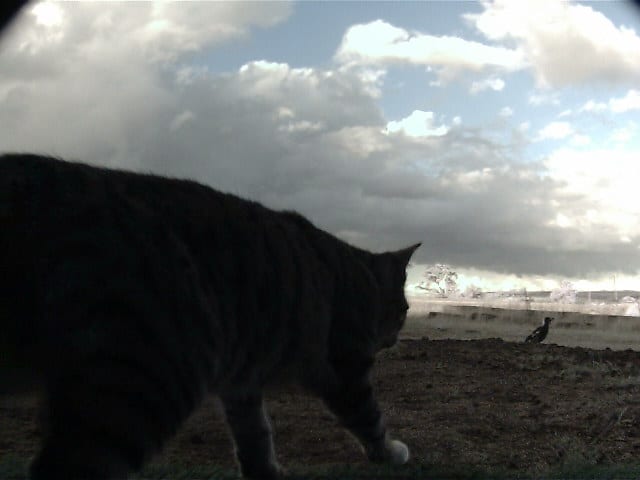 This project is funded through the Australian Government.