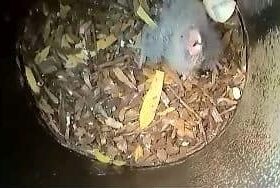 This little grey fluff ball is a 2 week old Carnaby Black Cockatoo chick! Thanks to a tip off by a regular morning walker at Marlee Reserve, north of Mandurah, we discovered a Carnaby's hen breeding unusually late, with a 2 week old chick observed through camera inspection of the nest on the 20th January.
Carnaby's Black Cockatoos historically arrive into Marlee Reserve to nest in early September. With a 30 day egg incubation plus 10 weeks from hatching to fledging, the chicks generally fledge the nest by Christmas time.
Given this, it was very unusual for us to find a two week old hatchling in an artificial nesting tube (known as a Cockatube) in mid-January, which would have been laid as an egg by a Carnaby's hen in December. This same tube had a Carnaby's chick fledge from it in mid-November 2021, so it is the second breed in that tube for the season. Unfortunately, a follow-up survey in early February found that the chick had not survived and the Carnaby's had left the area.
We also observed a late round of egg laying in Lake Clifton this year, with a Carnaby's hen laying 2 eggs in a cockatube on a private property in December, however these were abandoned.
We are not sure why we are experiencing a stretched out breeding season. We don't know if it is because of a good long winter rainfall season, and the hens are just waiting their turn for the best nests, or if they have they always done this and we've never observed it until now.
Moore Catchment Council in the northern Wheatbelt have also observed a longer breeding season this year with young birds close to leaving the nest in November whilst other hens appeared still interested in laying.
With the heat waves we have been having this summer, close proximity to water (within 1-2kms) is extremely important for these nesting hens. The Marlee Reserve Black Cockatoos regularly frequent bird baths on neighbouring properties, and in Lake Clifton horse troughs are a blessing for the birds.
We will pick up monitoring of cockatoos again in the next breeding season.
This project is supported by the PHCC through funding from the Australian Government's Environmental Restoration Fund.