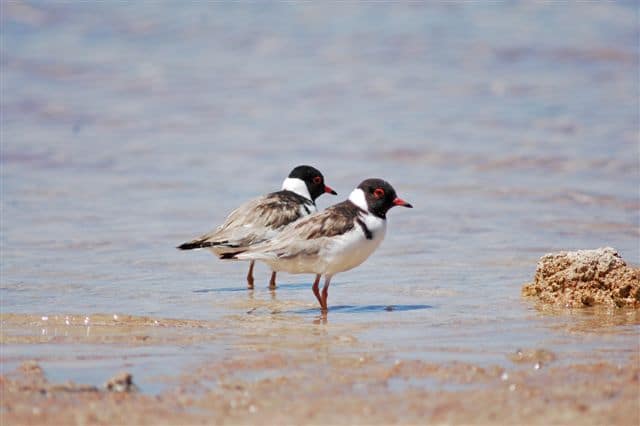 Shorebirds are a group of long-legged wading birds that usually feed in shallow waters or mudflats. Some species fly all the way here from Siberia to spend the summer months feeding in the local Peel-Yalgorup Ramsar Wetland. Living out in the open of these wetlands makes these birds vulnerable to attack. If shorebirds feel threatened they will take flight and this impacts these birds greatly as it reduces their feeding time and in turn their ability to put on the weight and strength they need to survive the migration journey.
Shorebirds and their young are particularly vulnerable to being disturbed by people walking their dogs nearby. The presence of the dogs will severely stress the shorebirds and prevent them from feeding. Many of us love heading out for a walk to the wetland, especially with man's best friend, so here are some simple tips on what to do when you're walking your dog.
Keep your dog on a lead, this way they won't un-expectantly chase or get close to the shorebirds.
Keep to existing paths and out of areas protected by fencing.
Keep a distance, respecting that shorebirds are easily frightened.
Abide by the signs and don't enter restricted areas for dogs.
Spread the word to let others know how to keep the shorebirds safe.
Small changes like this can make a big difference and help ensure the survival of these beautiful birds.