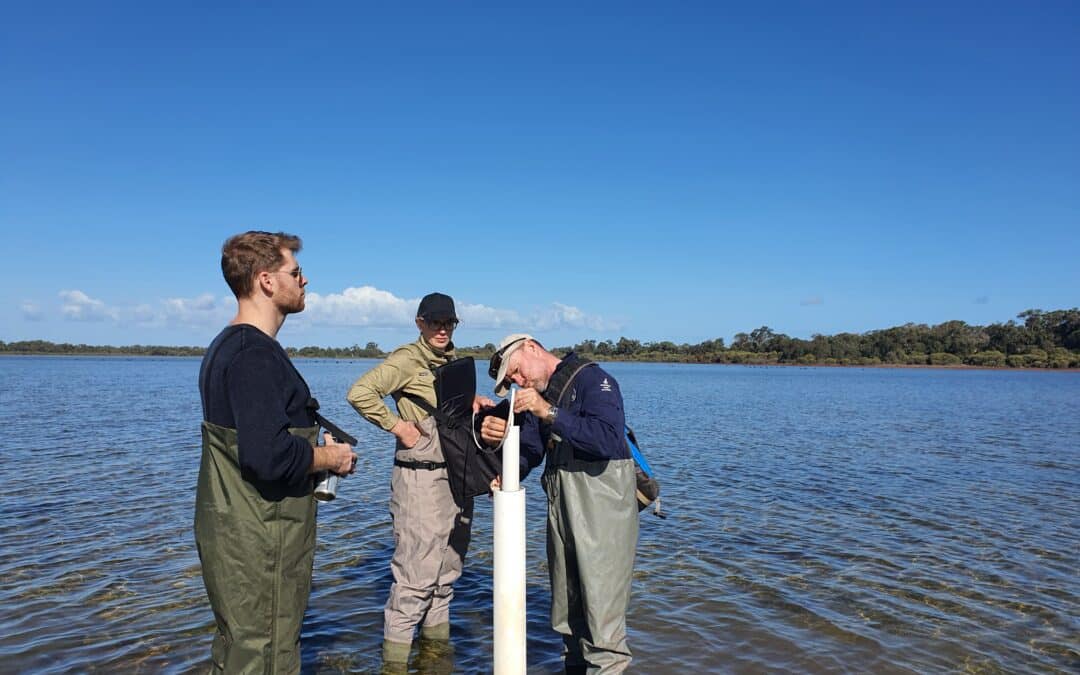 The level of Lake McLarty rises with winter rains and this makes it increasingly difficult to access the monitoring bores in and around the lake. We have recently purchased a series of data loggers, known as divers, to install in the bores and these will monitor the groundwater levels over the winter period until we are able to go back and collect them to download the data.
We were fortunate to have the help and expertise of Emma Rayner, hydrographer and senior NRM Officer from DWER, Rick James, DBCA Conservation Operations Officer and Cameron Smith, an intern from UWA to assist with the installation. The groundwater monitoring program is run in conjunction with DBCA's surface water monitoring program and future collaboration with PHCC, DWER & DBCA will align sampling, monitoring and bore maintenance goals for the Lake Mclarty and Lake Mealup systems.
Not all of the bores had divers installed and so officers will continue to monitor these other bores using the manual method and the "plopper" as shown in the previous edition of Wattle & Quoll https://peel-harvey.org.au/whats-that-and-how-did-it-get-there/. The divers are measuring at a much higher frequency of reading than the manual measurements and so it will be interesting to be able to compare the two data sets to investigate how quickly the groundwater levels change.
This work continues the great work that has been done to investigate the risk of acid sulfate soils forming at Lake McLarty and the management of flows to the lake required to minimise these risks and protect this critical habit and integral component of the Ramsar 482 Peel-Yalgorup Wetlands.
The purchase of these divers was made possible with funding from the WA Government State NRM Project Saving Lake McLarty Phase 1 and the Australian Government