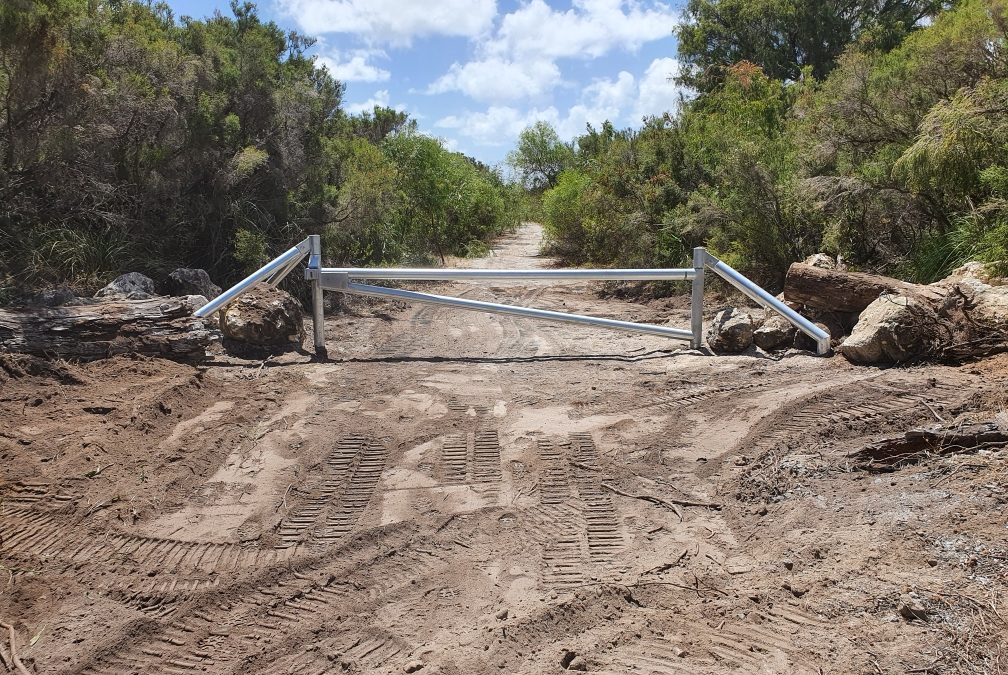 Of all the threats to the Peel-Yalgorup Ramsar 482 wetlands and its hinterland, Phytophthora Dieback is one of the most serious and most difficult to manage. It spreads in many ways but four-wheel-drive vehicles and off-road motorbikes are arguably the biggest cause of all. They carry spores in mud and dirt from diseased areas, sticking to the wheels and underside of the vehicles, which can drop into disease-free areas. Dieback is very hard to recognise at first, with a few sporadic shrubs dying, but becomes more conspicuous in time after large areas of shrubs and trees die. In some local reserves and national parks, patches of dieback-affected bushland can be seen along four-wheel-drive tracks, in some cases directly threatening endangered plant species.
The role that recreational vehicles play in spreading Phytophthora Dieback is clear but some drivers of these vehicles also create other problems. For example, at the northern end of Lake Clifton, seedlings planted as part of a 'Wetlands and People' revegetation project were damaged by illegal recreational vehicle activity. We also often see household rubbish and garden weeds dumped in bushland near four-wheel drive tyre tracks, and vehicles stuck in mud or abandoned in bushland inevitably leak oil and pollutants onto the ground and into the water. Bushfires in bushland are always a management challenge but are of heightened concern in areas open to illegal vehicle access.
Keeping unauthorised vehicles out of natural areas can be problematic. At the northern end of Yalgorup National Park, large steel gates were installed at one access point by the Department of Biodiversity, Conservation and Attractions (DBCA) to control vehicle access. One gate was subsequently repeatedly damaged by vandals ramming the gates with their vehicles. Reinforcing the gate with stronger footings worked for a short while until the padlocks were cut off and the gate was cut into pieces with a heavy-duty grinder.
Clearly something, more was needed so DBCA with assistance from PHCC through our 'Wetlands and People' project have installed an extra heavy-duty steel gate reinforced up by huge boulders on either side. This gate is more robust than any of its predecessors, and is designed to stop the most determined challenges. It was "attacked" with very minor damage within days of installation but several weeks later is standing firmly. Only time will tell how well it will withstand the on-going barrage from unwanted visitors determined to break through.
It's unfortunate that so much time and money must be spent trying to manage recreational vehicle activity in these environmentally sensitive areas but the risk that the devastating dieback disease and other damage from vehicles poses to our unique wetland areas demands that we try to stay a step ahead.
This project is supported by Peel-Harvey Catchment Council, through funding from the Australian Government's National Landcare Program