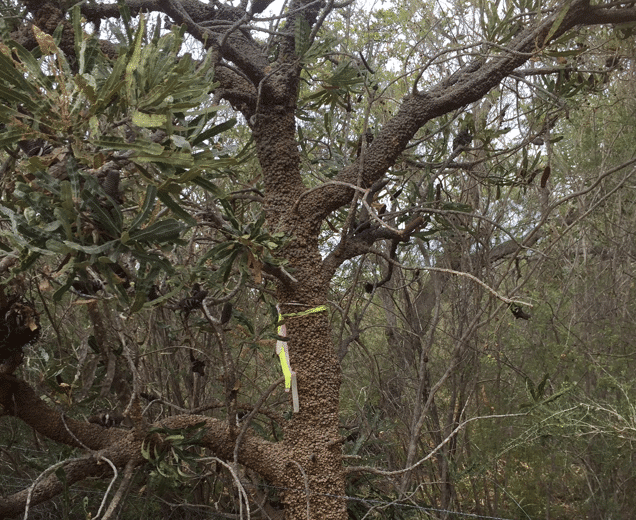 Dieback (Phytophthora cinnamomi) is one of the leading threats to Banksia Woodlands of the Swan Coastal Plain, along with land clearing and invasive weed species such as Veldt grass. But how do you know if you have Dieback?
There are some tell-tale signs that bushland on your property is being affected by Dieback. The death of certain plant species susceptible to Dieback can be a good early warning indictor. In WA, Banksia species are one of the best indicators of Dieback presence. Numerous plant deaths in one area of bushland and/or death of plants along and around areas of disturbance such as tracks and areas of high human activity can also be a sign of Dieback.
If these symptoms are present, then your bushland may be suffering from Dieback. However it could also be an indicator of other stresses such as a lack of water, herbicide drift or recent fire.
If you believe that your bushland is showing signs of Dieback infestation, a professional consultant can be brought in to interpret the site, undertaking tests of soil and plant tissue to confirm the presence of Dieback. A qualified Dieback interpreter can also map the infestation to assist you in developing a plan to manage the disease on your property.
Knowing if your property is affected by Dieback is key to effectively managing your bushland, as there are several steps that can be taken to prevent spreading the disease or introducing it to other sites as well as actions that can be undertaken to protect the species being affected.
To prevent the spread or introduction of Dieback it is wise to restrict access to areas affected by dieback during the wetter months, washing down vehicles and footwear to limit accidental transport of soil and ensuring that any landscaping and building materials brought to site are free from dieback.
Once Dieback has infected an area of bushland there is no cure. The application of Phosphite through foliar spraying and stem injection can assist plant species in their efforts to battle the disease as it provides a boost to their natural defenses.
PHCC has a Banksia 'A World of Woodlands' Project that is working with public and private land managers to protect areas of Banksia Woodland within the Peel-Harvey Catchment. Through this project PHCC can offer funding assistance for Dieback treatment for landholders managing the disease in areas of Banksia Woodland on their property, other management techniques such as fencing and weed control are also being targeted through this project.
If you are interested in learning more about how you can stop the spread of Dieback, or if you would like to see a list of plant species susceptible to Dieback, or find a consultant to assist you in your journey of tackling this natural bulldozer, check out the Dieback Working Groups comprehensive website: https://www.dwg.org.au/
If you would like to know if you are eligible for funding assistance for Dieback treatment through the Banksia Project, contact our Land Conservation Officer Jordon Garbellini-Adams at Jordon.garbellini@peel-harvey.org.au
This project is supported through funding from the Australian Governments National Landcare Program