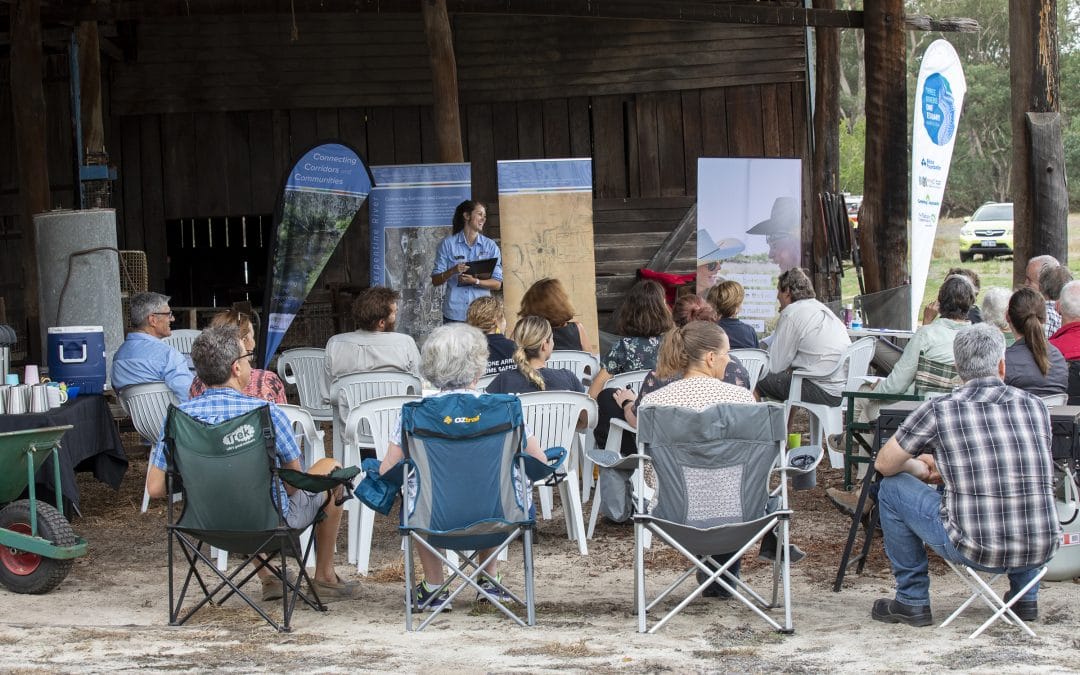 Through Peel-Harvey Catchment Council's Alcoa Foundation funded project, 'Healing Bilya – Restoring the Murray and Serpentine rivers', we are collaborating with Partners and key stakeholders to undertake a series of community engagement events to raise awareness about the importance of caring for our waterways, in particular our Harvey, Murray and Serpentine rivers and Estuary, forming a part of the internationally recognised Ramsar 482 listed wetland system.
Teaming up with Project Partners Greening Australia (GA) and The Nature Conservancy (TNC), three events in total have been designed to take place across each of the river catchments, to capture the hearts and minds of the community, and to further promote how individuals can play a pivotal role in future riparian restoration projects.
The first event kicked off at Lowlands Farm, on the Serpentine River. Titled 'Yarn in the Barn' this event celebrated and congratulated the community for their efforts and achievements in onground projects undertaken through the PHCC and GA Alcoa Foundation projects. Landholders undertook a substantial amount of on-ground works on their own properties with the aim to help improve river conditions. 'Yarn in the Barn' also gave the opportunity to discuss results founded through the River Action Plan surveys and River Health Assessments.
This event was a great success and has resulted in further collaboration with other PHCC projects including the National Landcare Program's 'A World of Woodlands' Banksia project. Through this collaboration, a planting day has been organised at Riverlea Farm by the local landholder. Fronting the Serpentine River, Riverlea Farm is situated near Lowlands Conservation Reserve and contains significant areas of Banksia Woodland (Threatened Ecological Community), that support endangered black cockatoos and many other native species. With the support and assistance from over 25 Alcoa volunteers, this planting day aims to restore and increase areas of Banksia Woodland, providing future food resources for black cockatoos and wildlife corridors to the River as well as sharing knowledge and instilling new skills amongst volunteers.
The 'Harvey River Fair', coordinated by GA and supported by PHCC, was the second of the Healing Bilya series of events. Held at Drakesbrook Weir in Waroona, this event gave the opportunity to exchange and share knowledge and raise awareness of the Three Rivers One Estuary Initiative. Organisations set up informative stalls, and included the Harvey River Restoration Taskforce, OzFish Unlimited and Murdoch University, with many running interactive activities to promote the importance of caring for our waterways.
The third and final event of the Healing Bilya series is to occur on World Environment Day, Saturday the 26th of June, on the Murray River. This is being coordinated in partnership with Birdlife WA and the Shire of Murray to increase biodiversity and connectivity along riparian corridors. This is an important event for the PHCC's Healing Bilya – Restoring Serpentine and Murray rivers project, as it focuses on engaging the local Murray River community in future onground activities and participation in the project now and as it develops over the next three years.
Further details on this event will soon be available on the PHCC website and Facebook page so watch this space!
This project is supported by the Peel-Harvey Catchment Council through funding from the Alcoa Foundation's – Three Rivers, One Estuary Initiative.