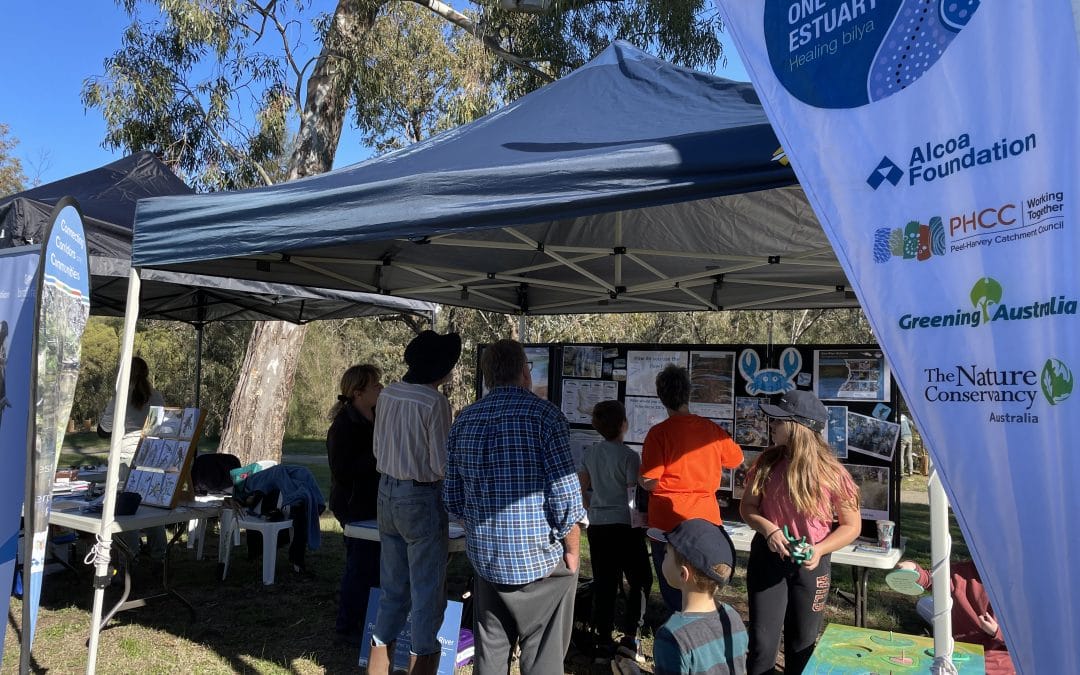 Over 80 community members volunteered their time to help plant over 2,500 native seedlings along the foreshores of the Murray River in Pinjarra. The planting was a celebration of World Environment Day, celebrated annually on 5 June in over 100 countries to encourage worldwide awareness and action for the protection of the environment.
In partnership with the Shire of Murray and Birdlife WA, PHCC helped rally the community to plant over 2,500 seedlings along the foreshores of the Murray River to celebrate the global initiative, World Environment Day. The purpose of this 'Planting in the Park' event was to raise awareness in our community about the importance of planting native species to help reconnect vegetation along the riverbank. This vegetation provides habitat and food resources for native animals, including the threatened species of Black Cockatoo.
The Murray River is the largest of the three rivers within the Peel-Harvey catchment, with it flow of water vital to the health of the Peel-Harvey Estuary, recognised as wetland of importance under the Ramsar Convention on wetlands. The river also provides a corridor linking coastal and inland ecosystems and creating a conduit for native animals.
Since European settlement, our river systems have been exposed to many threats due to changing land-uses including urbanisation. As a consequence the rivers have become increasingly degraded with erosion, increased nutrient runoff and severe loss of vegetation resulting in poor water quality. Restoration and protection of our rivers is a responsibility shared by government and the wider community: revegetation of the river corridors through events such as "Planting in the Park' is a practical way in which community members can take action into their own hands to improve the overall health and biodiversity of the river system and surrounds.
Several organisations held stalls to support the event, promoting the protection of the environment. PHCC's Healthy Waterways stall included an estuary food web puzzle (courtesy of Peel Bright Minds), wetland colouring in activities as well as a social values survey to evaluate how the community uses and values the river. Other groups such as Landcare SJ, the Peel-Harvey Biosecurity Group, OzFish Unlimited, Birdlife WA, Greening Australia and Alcoa also had stalls communicating the role they play in conserving our waterways and other natural assets.
Thank you to all organisations involved and the ongoing dedication and support from our community in helping make a difference. With this being the second 'Planting in the Park' event, it is hoped this event will run annually to build on the successes of each year's planting. We look forward to seeing the seedlings flourish into the future.
This project is supported by the Peel-Harvey Catchment Council and Birdlife WA through funding provided by the Alcoa Foundation and Shire of Murray.