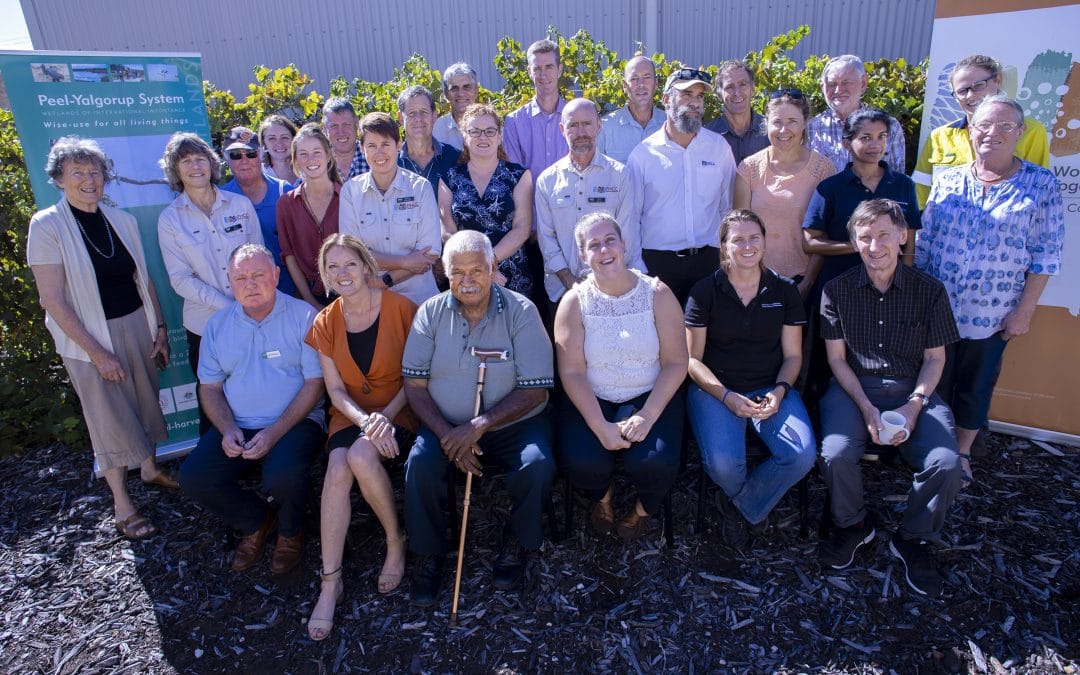 Members of the Ramsar Technical Advisory Group (TAG) recently met for their annual meeting on 14th March.
The TAG was established in 2007 and involves 27 stakeholder organisations who work collaboratively to manage the 26,500 hectare Peel-Yalgorup wetland system which includes the estuary and lakes in the Yalgorup National Park.
Elder Harry Nannup opened this meeting by welcoming the group to Noongar country.
This meeting was particularly significant with Jan Star, Chair of the TAG since its inception in 2007 handing over the reins to the newly appointed Chair, Amanda Willmott.  Amanda, who was previously an employee of the PHCC, joined the PHCC Board as a community member in October 2018 and accepted the role of Chair of the Ramsar TAG.  This is a lovely cycle as it was Amanda, when she was an employee, who was responsible for facilitating the Site's Ecological Character Description (ECD) and Management Plan.  Amanda also played a role in developing the Wetlands and People Plan. 
The March TAG meeting took a moment to acknowledge Jan's significant leadership in this space and remembered how in 2004 Jan directed the PHCC team that "We need a Ramsar Management Plan". Members also thanked the hard work of Kim Wilson, who has been a constant across this timeframe, supporting Jan and the TAG. Kim's efforts in taking our Ramsar System to a global scale were also recognised, as she handed the reins to Rick James, PHCC's newly appointed Co-ordinator, Wetlands Science & Management. Jan and Kim may be stepping aside slightly but both are still with the PHCC and will continue to support our Ramsar work.
Topics discussed at the meeting related to the management and monitoring of this complex and significant site. Presentations were made by members on planning, on-ground works and monitoring activities across the Peel-Yalgorup wetland system. Key projects discussed at the meeting included:
Wetlands Policy (DBCA)
Annual Shorebird 2020 report on waterbird numbers (Birdlife WA & PHCC)
Fairy and Caspian Tern Projects (CCWA)
Ongoing recovery actions at Lake Mealup (LMPS)
Robert Bay and Clifton Preston Updates (DBCA)
Limits of Acceptable Change for Ramsar Site 482 (DWER)
Lake Clifton revegetation (LCHLG)
East Asian Australasian Flyway Partnership (PHCC)
Wetlands and People (National Landcare Program funded) project (PHCC)
Restoring the Serpentine River Project (PHCC)
Rivercare Projects (PHCC)
Saving Lake McLarty (PHCC)
The PHCC has a strong interest in the ecological condition of the Ramsar Site but no direct management responsibilities. This independence is an important factor in the effective operation of the TAG and there are exciting times ahead as funding from the Australian Government Landcare Program will ensure continued facilitation of the TAG for the next five years.