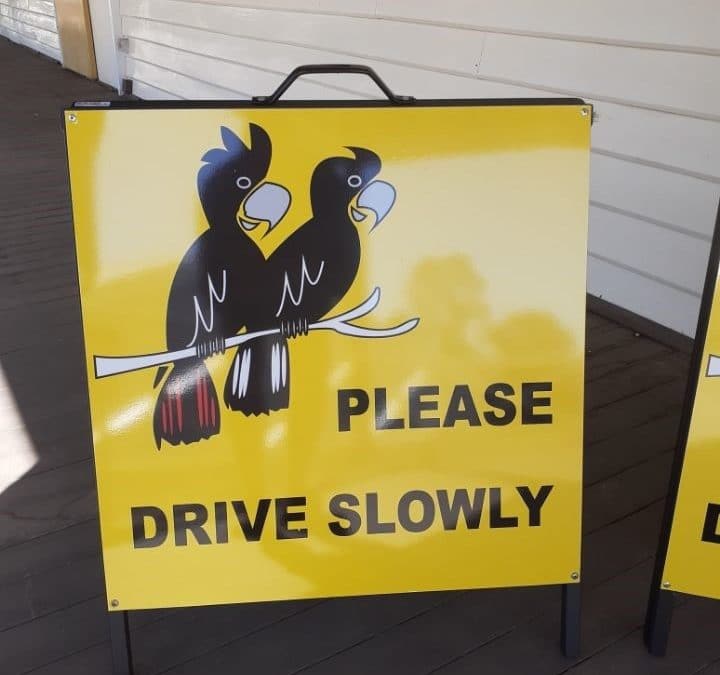 Black Cockatoos are one of the most recognisable local wildlife across our catchment. We are lucky to have all three species of Black Cockatoo reside in our catchment. These are the Forest Red-tailed (Calyptorhynchus banksii naso) with its distinctive red striped tail feathers and harsh "Kaarak" call, and our white tailed Black Cockatoo species, Baudin's (Calyptorhychus baudiini), and Carnaby's (Calyptorhynchus latirostris) both with distinctive white bands on tail feathers and white cheeks, each with slightly different whimsical calls of "wee-laa" for the Carnaby and "whicher-whicher" for Baudin's.
Recently, community members have been learning all about the biology, ecology, behaviour and threats of our iconic Black Cockatoos at workshops, the Great Cocky Count workshops held during February in Lake Clifton and Mandurah, and our S.H.A.R.E. event held in March in Mandurah. Representatives from Birdlife, Landcare SJ, Australian Black Cockatoo Specialists and Kaarakin Black Cockatoo Conservation Centre were on hand to present information and answer questions about the plight of these threatened birds.
One of the greatest threats to these iconic species is that less than 50% of breeding and feeding habitat remains. The birds will travel great distances across landscapes modified by human activity in search of feeding and breeding ground. They may be seen in our urban, semi-rural and agricultural areas, however intact native bushland is essential to their survival. It is here they will find all year-round food supplies, tree hollows to nest in and safe environments to raise chicks.
Bush blocks and farms play an important role in Black Cockatoo survival as they provide trees for nesting, feeding and roosting, as well as watering (from dams and troughs). It is always easier to protect than replace, so it's vital we reduce the threats to our bush blocks from fire, stock, clearing, weeds and pests.
As Autumn rains begin you may start to see more birds coming to the ground on sides of roads to drink from puddles and to eat seed (quite often marri (honkey) nuts). As they are such big birds and need lots of time and space to take off and they often fly into the path of motorists and unfortunately do get hit by motor vehicles, which takes a big blow to the survival of the species. Advice to motorists is to slow down when you see cockatoos on roadsides and if you know of any local black spots, encourage the local council or Main Roads to install warning signs. PHCC have recently supported the Friends of Reserves – Boddington (Inc.) to install mobile cockatoo "Please drive slowly" signs on roadsides where Black Cockatoos are feeding and drinking.
For more advice or information about our Black Cockatoos, or if you have something you'd like to share, please contact Megan LeRoy our Healthy Farms and Habitats Officer on 6369 8800 or megan.leroy@peel-harvey.org.au
This project is supported by the Peel-Harvey Catchment Council through funding from the Australian Government's Environmental Restoration Fund.