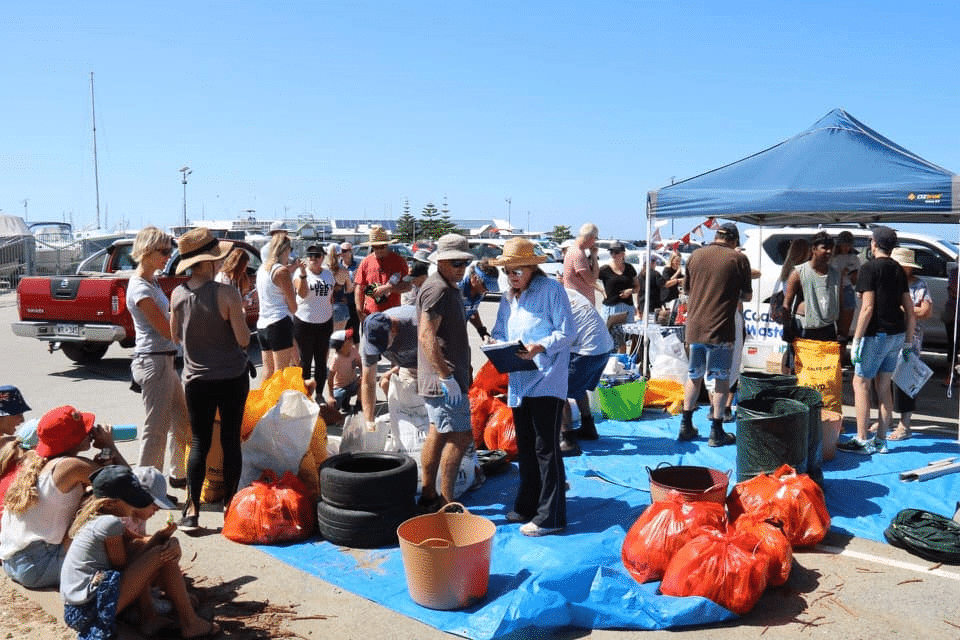 Clean Up Peel Waterways got off to a great start at the beginning of March with 17 teams registering to take part in the month-long clean-up which removes litter from various sites across the Peel-Yalgorup Ramsar Wetlands. This year is the first year that teams have registered from every council that surrounds the Wetland including; the City of Mandurah, Shire of Murray, Shire of Waroona and Shire of Harvey.

Our Ramsar 482 Wetlands are often subject to illegal dumping of rubbish or careless littering. Not only can litter in the wetland environment directly kill and injure wildlife through ingestion and entanglement, it also consequently leads to economic costs and losses to the communities that surround these wetlands. This community-driven event, now in its fourth year, is a great way for our community to make a difference and work together to clean up our beautiful Ramsar listed wetlands.

By mid-March teams had cleaned up areas of land and waterways in South Yunderup, Greenfields Riverside Gardens, the Dawesville Cut, North Pinjarra, Seascapes Foreshore Halls Head, The Marine Centre at Dawesville and various locations around the Serpentine River. Some unusual items removed from the wetland included a washing machine, a whipper snipper, car seats, an old scooter, a lawnmower, and a fridge. By all reports from the teams, the most common of the offending items collected were plastic drink containers, cans, plastic bags and wrappers, and cigarette butts.

Kirsten Fields from Coastal Waste Warriors reported that cigarette butts are a reoccurring and significant problem at the Dawesville Cut. In four clean-up events conducted at the Cut in the past year, cigarette butts have consistently been the commonest offending item of litter collected. Coastal Waste Warriors are calling for more to be done about cigarette butts in the carparks at the Port Bouvard Marina.
On the 17th of March, the decision was made to postpone the remainder of the scheduled Clean Up Peel Waterways eventss as a precautionary measure to slow the spread of coronavirus , since these events would involve gathering in large groups. Despite the majority of the events being postponed, there were still 7 clean-ups conducted involving 172 people who removed an estimated 1524 kilos of rubbish from the wetland.

Thank you to everyone who participated in Clean Up Peel Waterways 2020, for your support and understanding. A big thank you to Shire of Murray and City of Mandurah who also assisted with the pick of the rubbish collected by the volunteers. We look forward to running the Clean Up Peel Waterways Event again in the future at an appropriate time and we would like to leave you with this thought. Although clean-up events can't take place under our current circumstances we can, as individuals, still help reduce the rubbish in the wetland. When you go out for your 30 minutes exercise today consider taking a bag and a pair of gloves and picking up a few pieces of litter that you see along the way. Little things can make a big difference.

Peel-Harvey Catchment Council supports the Friends of Rivers Peel to coordinate the month-long Clean Up Peel Waterways Event. This project is supported by Peel-Harvey Catchment Council through funding from the Australian Governments National Landcare Program.