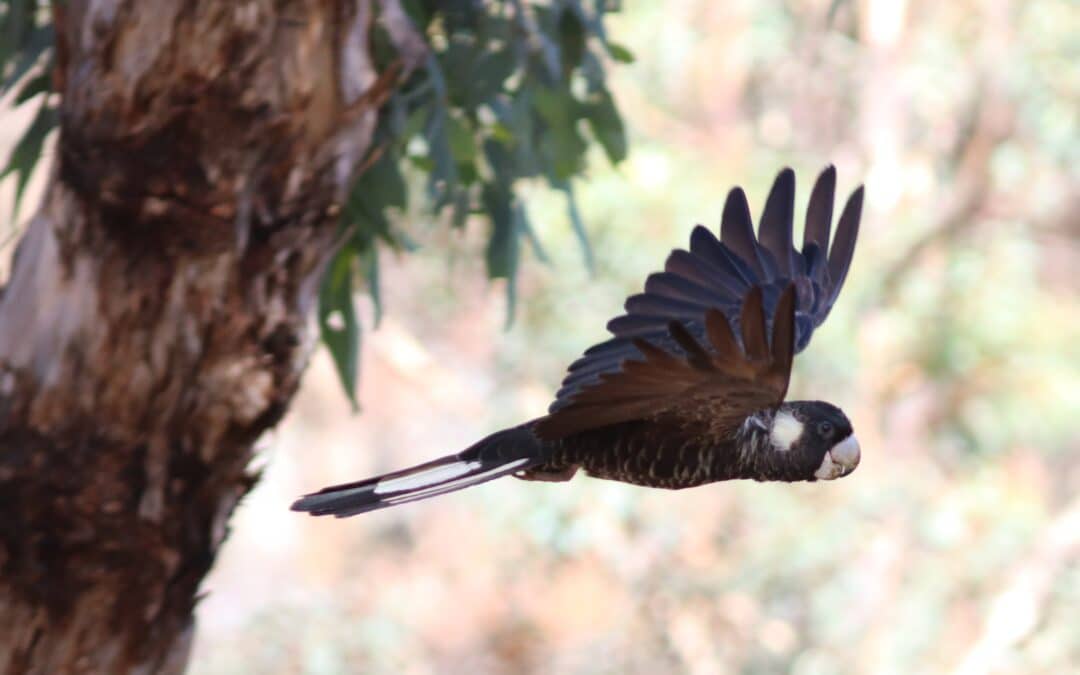 With nesting season soon upon us you may notice the return of Carnaby Black Cockatoos to breeding areas within the catchment.
Returning from their winter feeding grounds on the Swan Coastal Plain and Darling Scarp, many Carnaby's head east to nest in wheatbelt areas in large ancient hollow bearing trees such as salmon gum and wandoo.  But for some they make a shorter trip to their coastal nesting areas near Mandurah to nest in marri and tuart.
Generally Carnaby Black Cockatoos will migrate in pairs in late winter/spring and can travel 150km to the breeding sites where the female hatched. Once arriving they will prospect for suitable hollows. Indicative prospecting behaviour includes chewing or chipping around the edges of hollows and entering and exiting hollows in pairs. The older/dominant pairs will get the best hollows with the younger pairs getting seconds which are generally less successful at raising a chick.
The female will lay two eggs with normally only one surviving. The egg will be incubated for 30 days, then the chick will hatch and grow for another 70 days before fledging (leaving the nest). It is critical that a fresh water supply is available within 2km of the nest, and enough food within 6-12 km. Flocks of males will travel to find food for the females and their chicks, returning mid-morning and late afternoon to feed them. The female will leave the nest to have a drink and be fed by the male. She will spend less time in the nest as the chick grows.
If you see pairs of Black Cockatoos, watch which direction they are flying and where they land, and if you think you've discovered a breeding hollow please notify us. If you have large patches of Black Cockatoo habitat within Wandoo Woodland (Hotham-Williams) or Banksia Woodlands (Swan Coastal Plain) that you'd like to protect please get in touch as we may be able to support you with a project.
Contact Megan LeRoy on megan.leroy@peel-harvey.org.au or 6369 8800.
More information on Carnaby's on your farm, can be found here: https://birdlife.org.au/documents/CBC-carnabys-and-farms-2013.pdf
More information on all three species of WA Black Cockatoos and your property can be found here: https://www.birdlife.org.au/documents/swbc-BCs-and-your-property.pdf
This project is supported by the PHCC through funding from the Australian Government.