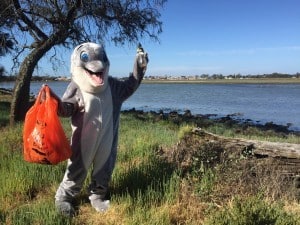 Litter in our catchment is one of the key challenges for our waterways and the wildlife that call them home, especially iconic species like our resident bottlenose dolphins and water birds. Ingestion of and entanglement with litter, especially plastic, causes injury and sometimes death of our wildlife.
Many dedicated community groups work to clean up our waterways and catchment all year round, but make a concerted effort to work together in March around Clean Up Australia Day. Friends of Rivers, Peel and Mandurah Environment and Heritage Group in partnership with PHCC are again coordinating a month-long clean up event throughout March and would love your help.
Now in its fifth year, the annual Clean Up Peel Waterways event has expanded to include parks, reserves and neighbourhoods and has been renamed Clean Up the Peel. Last year's efforts were cut short because of COVID-19, but in 2019, 17 teams and 300 volunteers worked together to remove 7 tonnes of rubbish from in and around the waterways of the Ramsar 482 site. This year (pending any COVID-19 related restrictions) we want the event to be even bigger and better and involve more of our community so we can really make a difference to our local environment.
Whether you are an individual, school, community group, family or group of friends you can get involved in Clean Up the Peel this March. You can join a public clean up, or organise your own clean up with a group. Clean ups that you organise can either be open to the general public, or closed for people you invite along such as members of your group or your neighbours. Groups taking part within the Peel-Harvey Catchment and that register following the instructions below will get assistance from PHCC and partners to promote their clean up event through social media and local newspaper advertisements.
If you are organising your own clean up group, the first step is to register your event via Clean Up Australia, who will provide equipment for your clean up and the necessary Public Liability insurance for your group. We recommend completing this as soon as possible to make sure your equipment arrives in time for your clean up event and to give you plenty of time to promote your event.
You can then register your event locally as a Clean Up the Peel Month event by filling in this registration form (required) with your event details. This is used to promote your event locally by social media and print media. Please email your completed form by 19th February 2021 to info@mehg.org.au. Groups taking part will be publicly acknowledged through various social media streams with a minimum full-page advertisement in a local paper which will spread the word about your clean-up and attract volunteers for your event.
To join an existing Clean Up the Peel Month event this March please visit www.cleanupaustraliaday.org.au/join-a-clean-up to find clean up events in your local area, and watch out for details on PHCC's social media channels closer to March.
Please share this information with others in our catchment. Thank you for doing your bit to clean up our beautiful waterways, parks, reserves and our vibrant neighbourhoods. To see a summary of how this event panned out in 2020 please visit peel-harvey.org.au/clean-up-peel-waterways-2020
Peel-Harvey Catchment Council supports the Friends of Rivers Peel and Mandurah Environment and Heritage Group to coordinate the month-long Clean Up The Peel Event. This project is supported by Peel-Harvey Catchment Council through funding from the Australian Government's National Landcare Program.