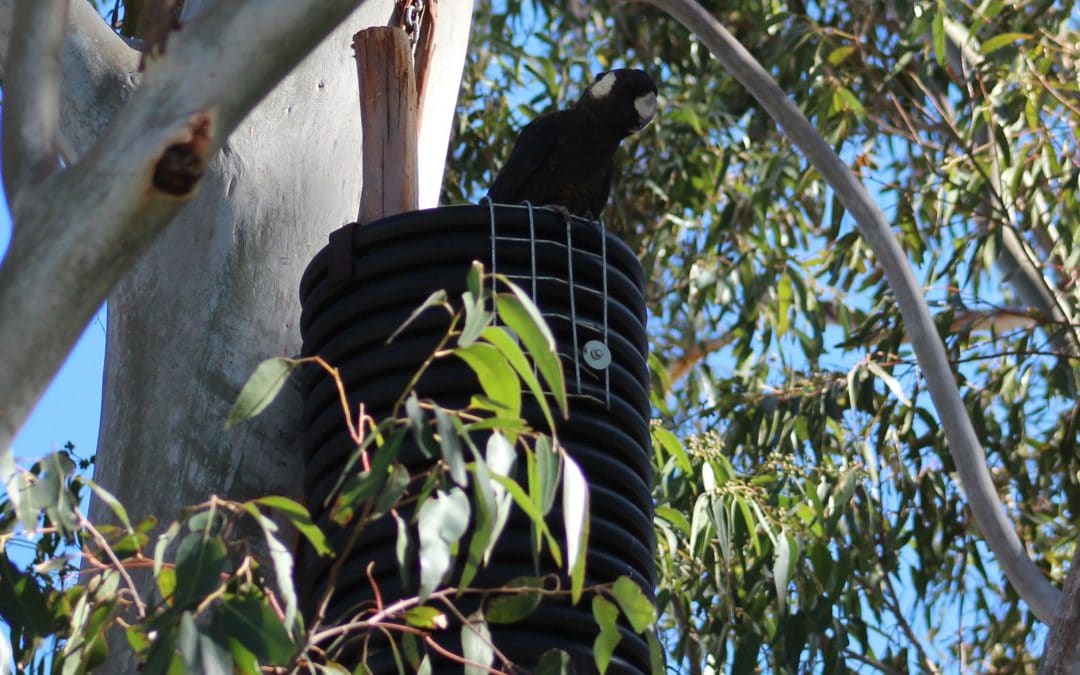 Surveys so far have found 6 breeding pairs of Black Cockatoos across the catchment! Three pairs of Carnaby's Black Cockatoo are breeding in Parklands in artificial hollows, as well as a pair of Forest Red-tail Black Cockatoo in a natural nest. One pair of White-tail Black Cockatoo were discovered nesting in an artificial hollow in Lake Clifton. And a Forest Red-tail Black Cockatoo is breeding in a natural hollow in Boddington. All pairs have successfully produced a chick each. At last inspection chicks were healthy and between 2-4 weeks old. They will be re-monitored this month.
We are still relying on the community to notify us on breeding. If you see any Black Cockatoos entering or exiting tree hollows or artificial nests please contact Megan LeRoy at megan.leroy@peel-harvey.org.au or on 6369 8800. Megan can come and confirm breeding by examining the hollow with a telescopic camera.
You can support breeding black cockatoos in your area by supplying birds with a fresh water source, planting food species, installing artificial nesting hollows, protecting cockatoo habitat by fencing it off from stock, and by controlling pests and predators (such as rabbits, bees, galahs and cats!). We have funding assistance and advice available to help you with these activities. Contact Megan on details above.
This project is supported by the Peel-Harvey Catchment Council through funding from the Australian Government's Environmental Restoration Fund.