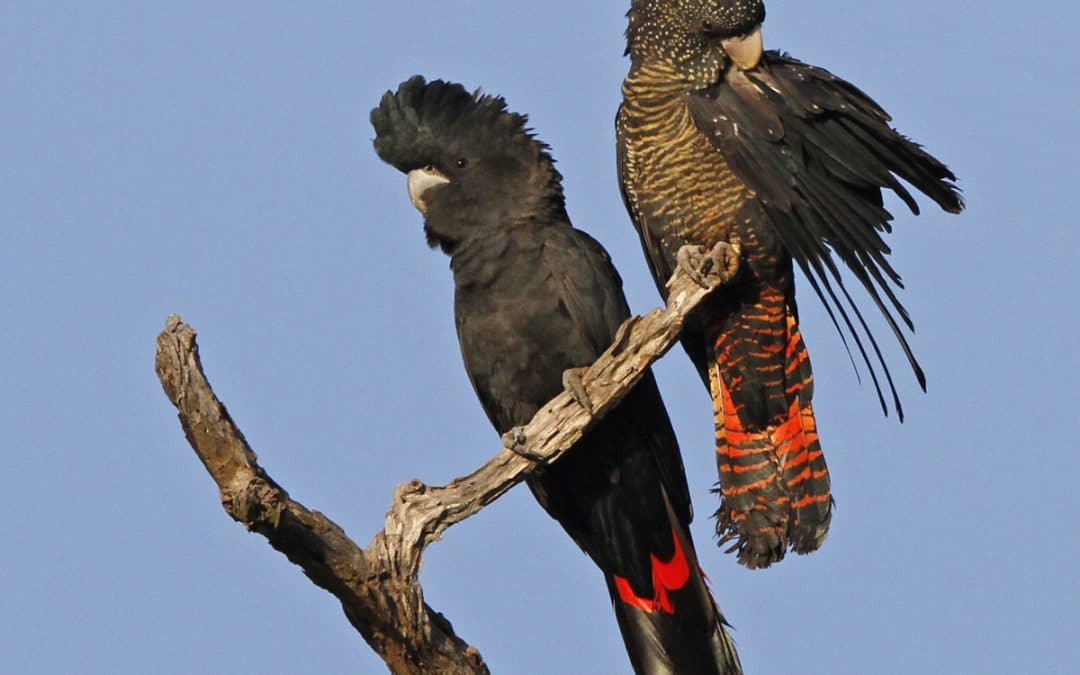 Early in the season pairs of birds may be seen prospecting (looking for hollows). The most common scenario is to see the male sitting on a branch near the entry of a potential hollow, looking bored, while the female inspects the hollow. She may chew around the rim and enter and leave the hollow. The male may also be seen entering the hollow while the female sits by.
During the early stages of sitting on the nest, while on the egg and whilst the chick is young, the female will spend the majority of her time on the nest, leaving the nest only a couple of times a day to be fed by and socialise with her male, as well as to drink. At these times, usually once in the morning and once in the afternoon, you will see them in pairs. If you see a pair together it may be that the male is feeding the female. The male feeds the female the same way a mother feeds her chick by regurgitating food – although he will always feed her out of the hollow by calling her out to feed.
Later in the season, when the chick is older, the female will leave the nest more frequently to feed. If a female is seen alone or with her male rather than in a flock, it is likely that she is near her nesting hollow.If you quietly observe her you may see her enter the nesting hollow. Be sure to not let your presence disturb the birds.
If you do observe any of the above behaviours please notify our Black Cockatoo Project Officer Megan LeRoy by email megan.leroy@peel-harvey.org.au or phone 6369 8800. Megan can come and confirm nesting and may be able to use a telescopic camera to look in the hollow.
More information on Black Cockatoos can be found at: https://birdlife.org.au/projects/southwest-black-cockatoo-recovery
This project is supported by the PHCC through funding from the Australian Government's Environmental Restoration Fund