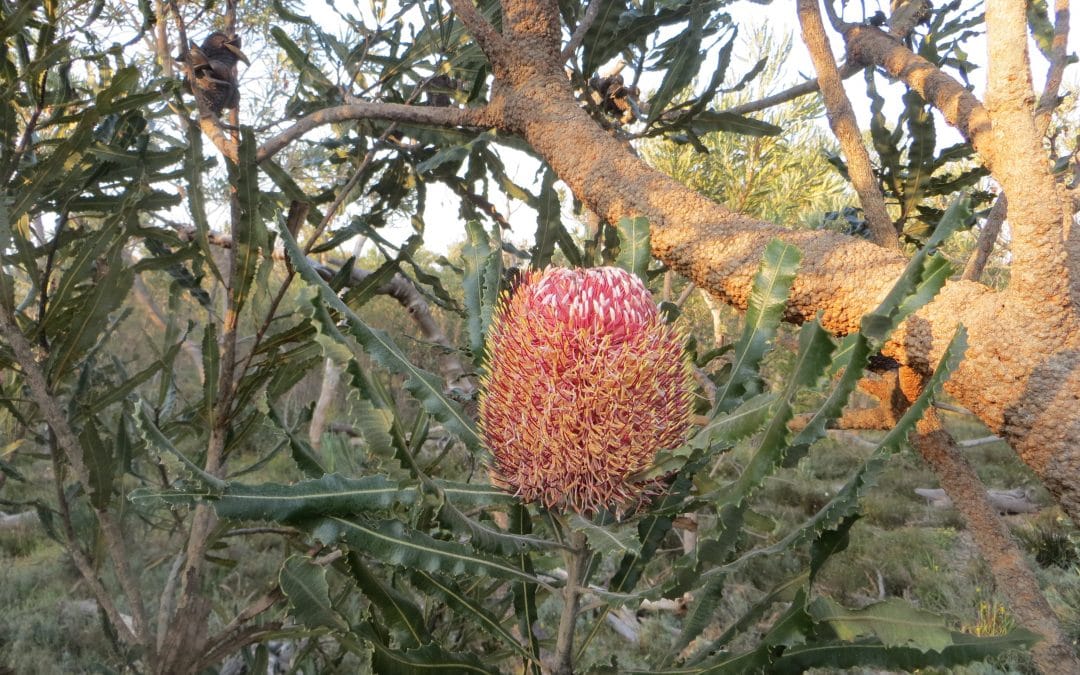 Banksia Woodlands vary in their structure, with differences in canopy height and species density noticeable in woodland areas occurring within a small distance from each other. Along with these differences, there are many common similarities between patches of Banksia Woodlands on the Swan Coastal Plain such as the soil in which they grow, typically occurring on well drained areas within Bassendean and/ or Spearwood sands and the presence of one or more of four dominant Banksia tree species (Banksia attenuata, Bankisia menziesii, Banksia prionotes and Banksia Ilicifolia).
Often sharing the woodland canopy with other tree species such as the Western Australian Christmas Tree (Nuytsia floribunda), Marri (Corymbia calophylla) and Jarrah (Eucalyptus marginata), these four Banksia tree species are a key indicator for identifying the Banksia Woodland of the Swan Coastal Plain Ecological Community. The Peel region is home to three of these four species:
Candlestick Banksia (B. attenuata) – Typically grows as a tree and can reach up to 10 meters in height, though in some areas can form a shrub as low as 2 meters. This species flowers from October through to February, flowers are cylindrical in form with their bright yellow attracting insects and birds, including Carnaby's Cockatoos. https://florabase.dpaw.wa.gov.au/browse/profile/1800
Firewood Banksia (B. menziesii) – Grows as either a tree or a shrub ranging in height from 2 meters to 7 meters. This species foliage is grey-green and flowers from February through to October. Firewood Banksia flowers are cylindrical and appear two toned with combinations of pink and red, red and orange and sometimes yellow. These pollen-rich flowers attract numerous birds and insects and the seeds are another important food source for Carnaby's cockatoos. https://florabase.dpaw.wa.gov.au/browse/profile/1834
Holly-leaved Banksia (B. ilicifolia) – Most often found growing as a tree, reaching up to 10 meters in height, the Holly-leaved Banksia leaves resemble those of the Holly Tree and are shorter in length than those of the Firewood and Candlestick Banksias. Another distinction from the other dominant Banksia tree species of Banksia Woodlands is the dome flower structure of B. ilicifolia. Flowers occur throughout the year, firstly appearing cream or yellow and then darkening to pink and finally red with age. https://florabase.dpaw.wa.gov.au/browse/profile/1822
These beautiful and unique species are top of the list for revegetation works through our Banksia 'A World of Woodlands' project. This year the Banksia Project will be supporting four hectares of revegetation to improve the condition of Banksia Woodlands in the Peel-Harvey Catchment. With some good preparation, follow up care and rain, we hope to achieve a good survival rate and look forward to seeing many more of our iconic Banksias in the catchment!
Contact us for help with your Banksia's via jordon.garbellini@peel-harvey.org.au or 6369 800
This project is supported by the Peel-Harvey Catchment Council through funding from the Australian Government's National Landcare Program