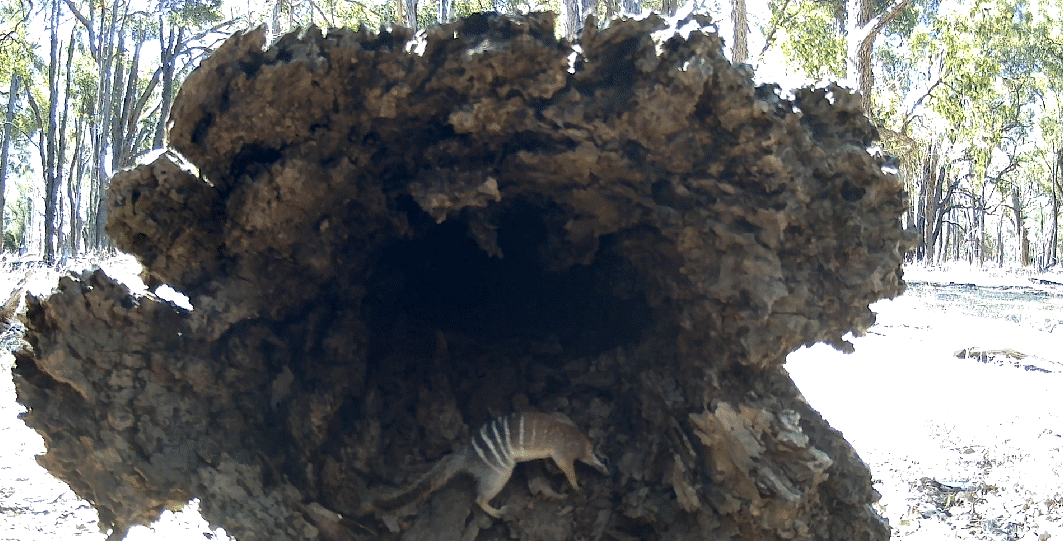 A local landholder captured a video of a numbat visiting a hollow log, at the start of December, on their property. PHCC has worked with the landholder to report the sighting to the Department of Biodiversity, Conservation and Attractions. We are working with the numbat experts to determine if this is the same individual as the confirmed sighting from earlier this year.
We are working with the landholder to assist with monitoring as well as continuing to work with wider community to support fox and feral cat control. PHCC are also planning numbat dig and scat surveys in the Boddington area to further confirm the presence of numbats and the dynamics of the individual or the population.
A big thankyou to the landholder for protecting and enhancing habitat on their property and also for monitoring and reporting threatened fauna.
What can you do to help protect this and potentially other numbats in Boddington? This sighting is close to the Boddington townsite so if you live in or around Boddington you can help by keeping your pet cats indoors or in a cat run, controlling feral cats and foxes on farmland and driving carefully during the day in case the numbat crosses roads. If you are lucky enough to spot this or any other numbat please call 6369 8800 or email christine.townsend@peel-harvey.org.au
The Numbat Neighbourhood project is supported by the PHCC through funding from the Australian Government's National Landcare Program, Newmont Australia and South32.