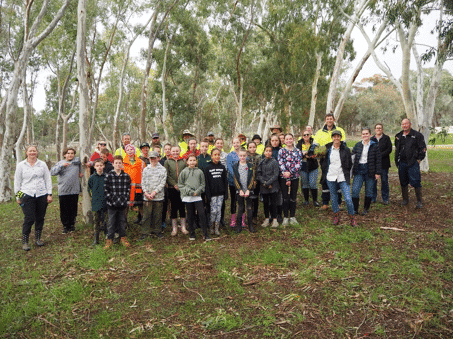 The yearly planting of Tunbridge Gully was once again conducted in June 2020.  This project aims to improve the health of the vegetation with the removal of the invasive weed Juncus acutus (Spiny rush).  Over 6,000 species have been planted this year within a 7 hectare area leading along the gully and into the Hotham River.
50 volunteers from the Year 6 Boddington District High School Students, South 32 and Newmont employees, Friends of the Reserves Boddington (Inc.) and PHCC staff and volunteers braved the winter conditions, muddy water ways and enjoyed planting the seedlings. Planting in Tunbridge Gully has occurred annually since 2016 with Boddington District High School and volunteers and it's great to see the progress of the seedlings over the years.
Since 2017 a dedicated weed spraying program has occurred with the aim to reduce the area of invasive weed Juncus actutus. The results are very encouraging with the overall area of the weed significantly reduced. A detailed vegetation mapping survey will occur in Spring to compare with that performed prior to initial spraying commencing. We look forward to sharing the results! 
This project is funded by South32 in partnership with Boddington District High School, PHCC, Friends of the Reserves (Boddington) Inc., Shire of Boddington and Newmont.