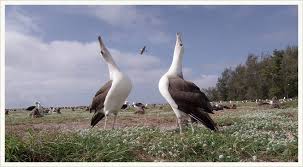 Tickets are still available to The Wetlands Weekender Movie Night!
PHCC and Peel Bright Minds will be celebrating World Migratory Bird Day (WMBD) on October 12th by screening the film "Albatross", a highly provocative film that conveys the heartbreaking consequences of plastic litter on seabirds.
Ingestion of micro-plastic has been linked to population crashes in seabirds and migratory bird populations. Marine debris has become one of the major environmental issues worldwide, with 8 million tons of plastic entering the ocean and waterways every year. In Australia, 77 bird species are impacted by marine debris and 633 species are affected worldwide.
The film poetically explores the issue of marine debris by focusing on the colony of Albatrosses that inhabit Midway Island in the Pacific Ocean and impact that plastic is having on these beautiful birds. The film has been described on IMDb as "a powerful visual journey into the heart of an astonishingly symbolic environmental tragedy."
The film will be followed by a discussion on current projects operating within the Peel and ways to take action in your community to help reduce the impacts of plastics in our environment.
Tickets are just $5 and light refreshments will be provided.
For more information and tickets see: https://peel-harvey.org.au/wetlands-weekender/