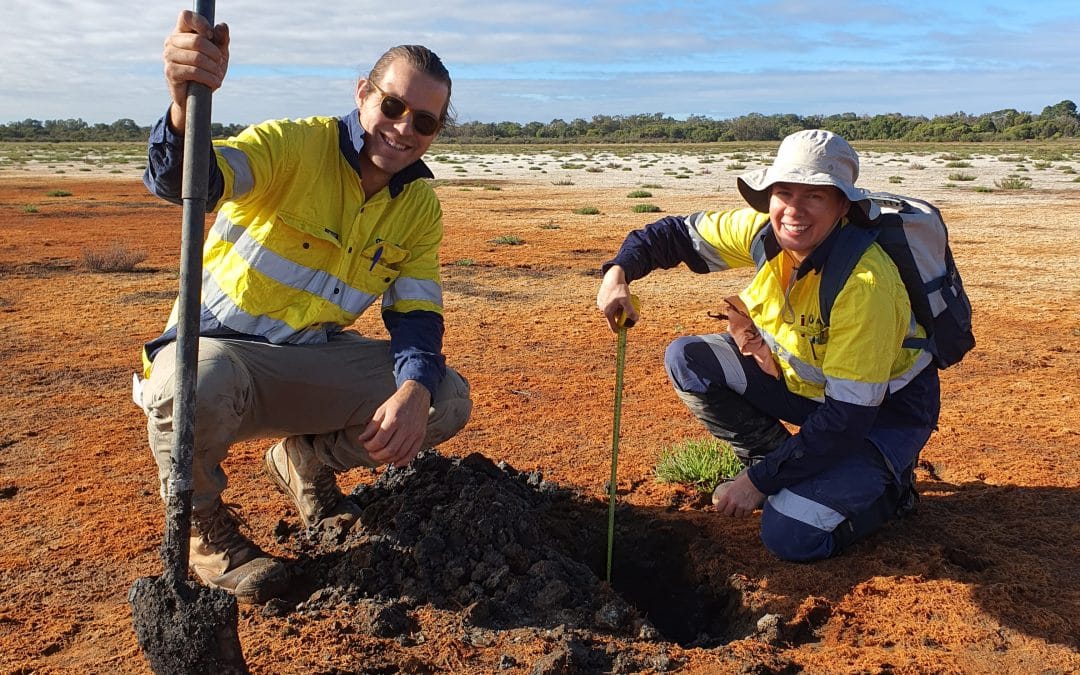 During the season of Djeran, before the rains arrive, the field work phase of the "Saving Lake McLarty" project was completed. This involved investigating the lake's bed sediments and determining what risk there may be to the ecology of the lake from activation of any acid sulfate soil layers that might be present.
Following on from the article in the last edition of Wattle & Quoll (https://peel-harvey.org.au/is-there-an-acid-demon-beneath-lake-mclarty-2/) the acid sulfate soil investigation field work at Lake McLarty has now been completed. This was carried out by a team from Senversa, their project partners Stantec and the crew from Direct Push Probing (DPP) and assisted by PHCC's Wetlands Science Officer, Jennie Beeson. Over a period of two weeks in April the team took soil cores from the bed of the lake at 50 different locations using a direct push technique, amounting to the collection and assessment of over 100 metres of soil cores.
The soil profile which included layers of sand, peat and clay from each core sample was carefully examined and recorded by Stantec's senior soil scientist, Bronwyn Smedley. This information will be used to build a profile map of the sediments of the lake which will enhance our understanding of this wetland and inform future management activities.
Acid sulfate soils are relatively benign when shielded from the air through inundation or saturation by water. When the lake dries out to a point where these acid sulfate soils are exposed to air, then they may generate sulphuric acid and release nutrients and metals previously bound up in the soil.
Samples from the coring program were therefore tested in the field to measure their pH giving an indication of the acidity of the sediment in the profile. Some samples were also analysed in the field using a test known as pHFOX in which the sample is mixed with hydrogen peroxide before measuring the pH. This gives an indication of how acidic the sediment may become upon oxidisation, mimicking their exposure to the air.
Further samples are being analysed in the laboratory to more thoroughly characterise the sediments to identify the risks acid sulfate soils pose. This understanding will allow us to make management decisions based on the best available science and give us the best chance to protect this important component of our Ramsar listed wetlands.
This work is being delivered by PHCC through it's "Saving Lake McLarty Phase 1: Addressing acidification, hydrology and habitats" project funded by the WA State NRM Program.