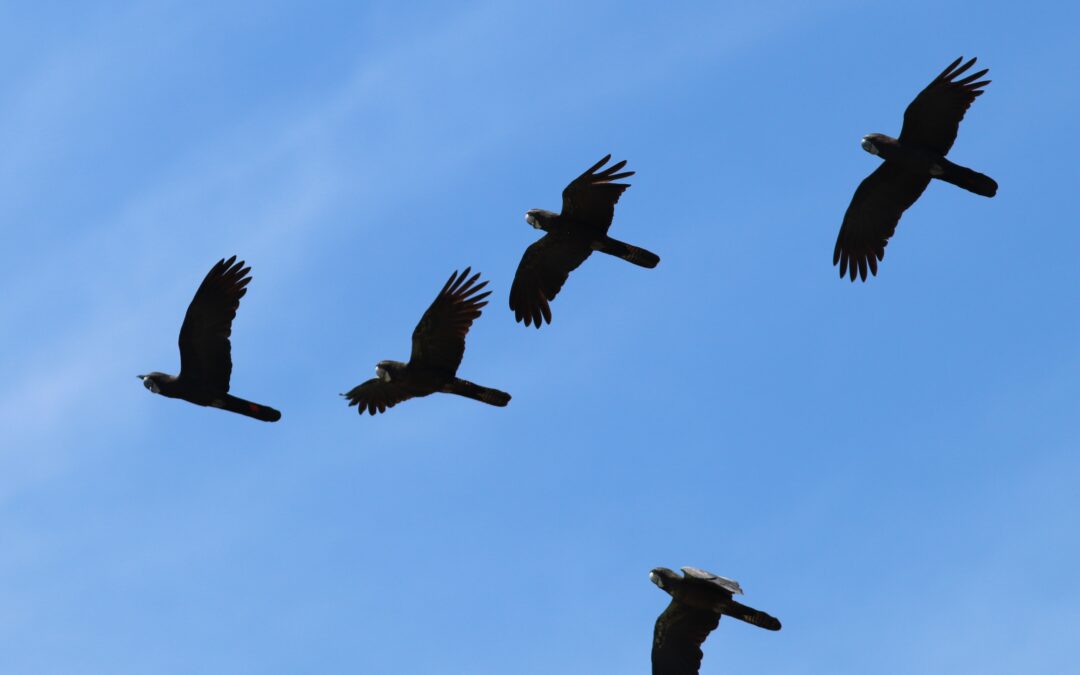 The Great Cocky Count (GCC) is a long-term citizen science survey and the biggest single survey for black-cockatoos in Western Australia. On one night in autumn, volunteers monitor known roost sites and count black-cockatoos as they come in to their evening roosts at dusk. Records submitted from across the southwest provide a snapshot of black-cockatoo populations, and over time this has helped us quantify the changes in black-cockatoo numbers.
The Great Cocky Count originally started as a survey method for Carnaby's black-cockatoos, and focussed just on the roost sites around the Perth Metropolitan area. Over recent years the surveys have expanded to include forest red-tailed cockatoos as well as sites across the southwest. It has been running for over 10 years now.
The Peel-Harvey Catchment has nearly 80 roost sites registered in our catchment so you're bound to find a site you can monitor near you. You can do this on your own or make a night of it with a group of family and friends.
What you can do?
 Register to monitor a roost site for the Great Cocky Count on the night of the 3rd April by following this link https://docs.google.com/forms/d/e/1FAIpQLSd_OMQpn7ACGMX1zm53hdZSFjn2TbCStEfPrtyTY51mgogGnQ/viewform  
Register a new roost site via the link above or email merryn.pryor@birdlife.org.au
Attend one of the three Great Cocky Count Workshops across the Peel-Harvey in February. Dates, locations and links to register are below. All COVID-safe protocols and most recent WA Government health advice will be implemented.
Coolup – Sunday 13/02/2022 1.30pm – 3.30pm, Coolup Hall. Register here.
Jarrahdale – Sunday 20/02/2022 1.30pm – 4.30pm, Bruno Gianatti Hall. Register here.
Boddington – Monday 28/2/2022 5:00pm – 6:30pm, Community Resource Centre. Register here
The Annual Great Cocky Count is taking place this year on 3rd April 2022, and is now open for registrations – put it in your diary!
This project is supported by the PHCC through funding from the Australian Government's Environmental Restoration Fund.